See you next year!
September 27-29, 2019
Veterans Memorial Park, Bay City
This annual event held on the banks of the Saginaw River in Veterans Memorial Park draws re-enactors from all over the country to dress, work and live as people did from several eras in Michigan's past. Representing time periods from pre-contact Native Americans, Revolutionary War, French and Indian War, Civil War, and the great World Wars, this free, family-oriented, educational event is a wonderful way to look back at simpler if not more difficult times. It is held the last weekend in September, and brings in thousands of people every year including school groups from all over the area.
Features
Camp sites featuring Native Americans through the Vietnam War
Sutlers' Shopping Row
Ma & Pa's Kettle Korn
Little John's Root Beer
Period Battles
Period Music
Meet Historical Figures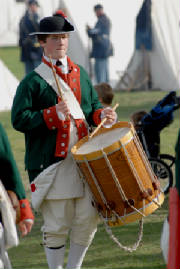 Donate to River of Time
While there is no admission charge, sponsorships and donations are vital to the support of this living history event. Contributions may be sent to:
River of Time
ATT: Diane Wagar
Bay County Historical Society
321 Washington Avenue
Bay City, MI 48708


Re-enactors set off a cannon during a skirmish at River of Time.
For general questions about River of Time: contact the Bay County Historical Society at (989) 893-5733 or Event Chair Jan Rau at (989) 686-6834.
Friday September 27, 2019 is "Education Day" at River of Time!
Class reservations are helpful but are not required. Tours of the encampment are self-guided. For more information please contact the Museum.