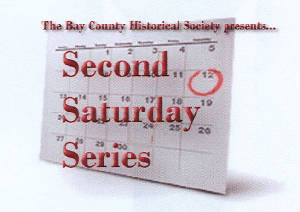 A series of presentations by local historians held at the Historical Museum of Bay County on the second Saturday of each month from January-November. Past topics have ranged from railroads to shipwrecks, coal mining to baseball... first person interpretations to virtual tours. Now in its 11th season here at the Historical Museum!
Programs begin at 1pm
and are FREE to the public
Programs last about one hour. Light refreshments are provided. For more information call the Museum at (989) 893-5733.


Coming Next:
April 8, 2017
"The Delta College Planetarium: Bay Region's Window to the Universe"
with Michael Murray
1:00pm
Downtown Bay City is home to a world class Dome360 theater and Learning Center. Learn the story behind the planetarium's unique architecture, and the historic site that it rests on. In recent years, the digital dome theater is going through a renaissance that makes use of updated technology to tell new stories. These journeys go beyond astronomy – they touch on exploration and discovery of our natural world as well. Science, culture and music all have a place in the new programming being designed at the planetarium. The theater showcases special programs produced in-house to provide a local perspective on hot topics and current events.
Mike Murray, Astronomer & Planetarium Manager, will have a unique visual presentation in store!
NOTE: This program will be held at the Delta College Planetarium, 100 Center Avenue. The Museum will be closed on this date.


Second Saturday
& Special Events Archive
Now on YouTube!
Did you miss a presentation?
We've partnered with Bay County TV to make videotaped broadcasts of each month's Second Saturday program and other special Museum events available on YouTube at the links below.
For a current Bay County TV schedule and broadcast information visit them on Facebook.
2016 Programs:
2017 Programs
1-14-17: Lake Erie Stories with Ric Mixter
2-11-17: Crossing Bridges: The Bay County Library System with Mary Penn
3-11-17: Public Art's Effect on Community with Tara Welch