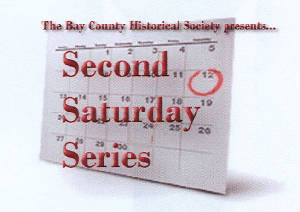 A series of presentations by local historians held at the Historical Museum of Bay County on the second Saturday of each month from January-November. Past topics have ranged from railroads to shipwrecks, coal mining to baseball... first person interpretations to virtual tours. Now in its 11th season here at the Historical Museum!
Programs begin at 1pm
and are FREE to the public
Programs last about one hour. Light refreshments are provided. For more information call the Museum at (989) 893-5733.
If you have an idea for a Second Saturday topic share it with us at the link below!


Coming Next:
March 11, 2017
"Public Art's Effect on Community"
with Tara Welch
1:00pm
Studio 23 / The Arts Center originated as a grassroots arts organization created by volunteers who were dedicated to bringing the arts to the Great Lakes Bay Area. Join Executive Director Tara Welch as she shares the Studio's story from its beginning in 1959, to the present day's goals, exhibits and programming in our community.
NOTE: This program will be held at BAY CITY CENTRAL HIGH SCHOOL, 1624 Columbus Avenue, in conjunction with Michigan History Day Finals. The Museum will be closed on this date.


Second Saturday
& Special Events Archive
Now on YouTube!
Did you miss a presentation?
We've partnered with Bay County TV to make videotaped broadcasts of each month's Second Saturday program and other special Museum events available on YouTube at the links below.
For a current Bay County TV schedule and broadcast information visit them on Facebook.
2016 Programs:
2017 Programs
1-14-17: Lake Erie Stories with Ric Mixter
2-11-17: Crossing Bridges: The Bay County Library System with Mary Penn