The Bay County Historical Society offers a variety of tours that highlight Bay County's history and community from May - October. Tickets for public walking tours will be available in Museum Store. Tours for school or private groups may also be arranged. All tours will leave from the Museum lobby. Seven days notice preferred. For more information contact Sam Fitzpatrick at (989) 893-5733.
City Hall Tour
The Historical Museum offers private guided tours of Bay City's historic City Hall. Tours must be scheduled during City Hall's regular business hours. Clock tower tours are limited to the hours of 9am-3pm. (7 days notice required)
The Museum also offers special curriculum-related programs for school groups.
______________________________________________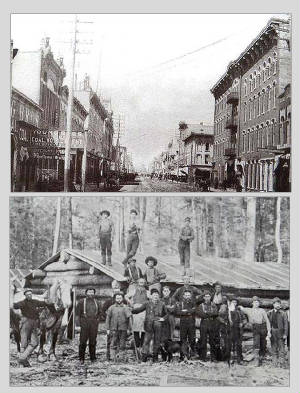 Downtown Bay City
Architecture Walking Tour
Cost: $10.00/Adult $5.00/12 & under
Today just like in Bay City's past, we have a booming downtown. Old buildings filled with charm dot the main streets of Washington, Center and Madison Avenues. Everything that a successful "heart'' of a city needed could be found here: drug stores, markets, clothiers, restaurants, grocers, government offices and entertainment venues.
Local architects Pratt & Koeppe left an architectural legacy, and were famous for constructing many of the sites to be seen on the tour. Albert Kahn of Detroit (Fisher Building, Cadillac Place and the Belle Isle Conservatory among others) even had a hand in some designs here. Besides beauty and splendor, the featured buildings also hold stories that shaped our city's and county's history. The tour will share information highlighting the history and importance of these structures.