by David Hohenstein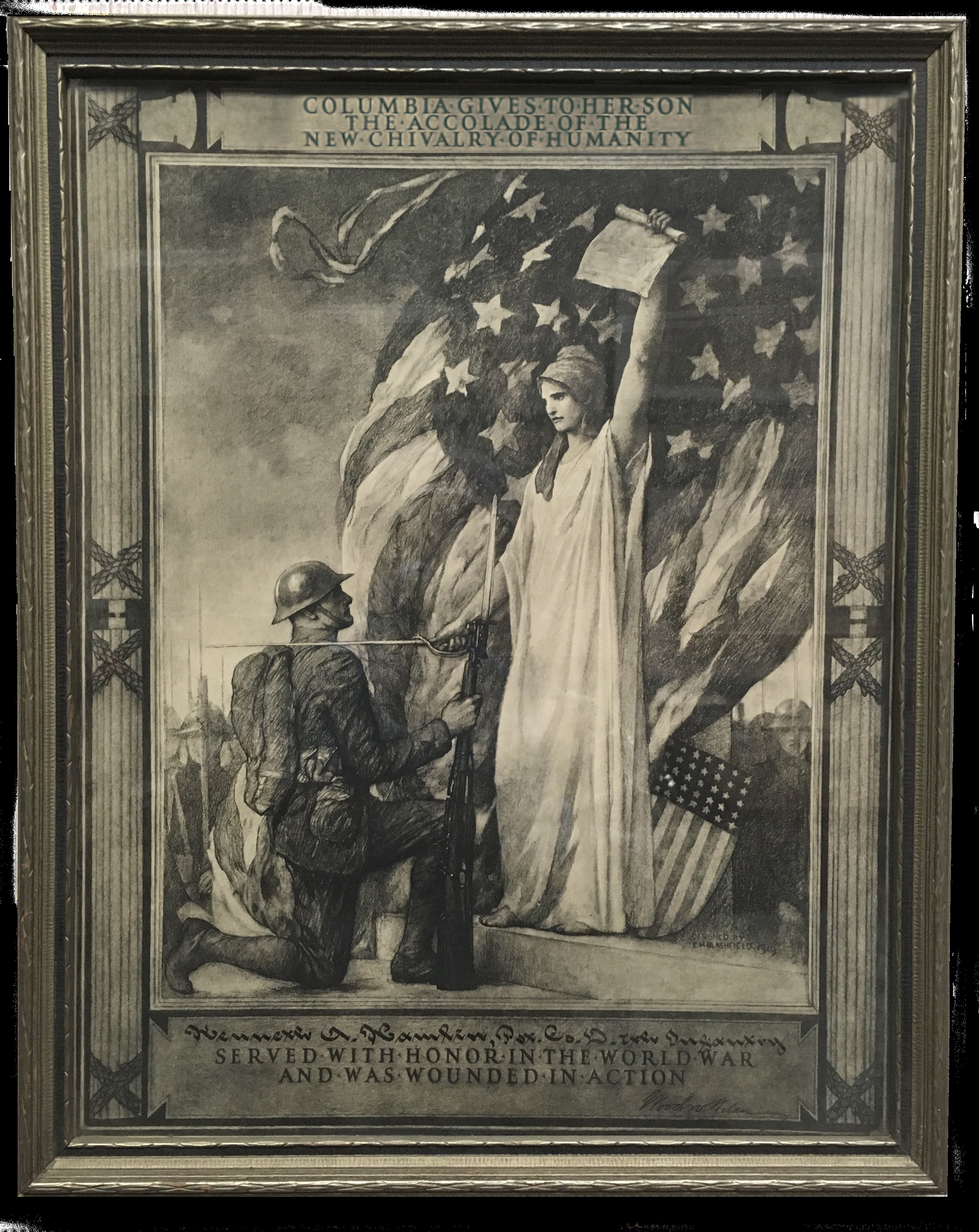 Image Source: Bay County Historical Society
Columbia, Spirit of America

Beginning in the colonial days of the United States of America, as we now know it , the spirit of the Country was seen as something wild and "uncivilized". The Land was "New", "Undiscovered" and untamed; full of beauty, bounty and mystery. It was just being born, formed out of the rejection of Olde Europe and the quest for freedom and new beginnings. Out of the clash between an ancient and diverse people's culture and people from practically another world.

In those times the image for this new Spirit of the Nation was a goddess. Not a cantankerous Uncle Sam and before Lady Liberty, her name was Columbia - the rebellious Spirit of this new America. Conceived in poetry and named in close relation to Christopher Columbus, Columbia was a feminine counterpoint, the daughter of the Old and the mother of the New. Her image is the symbol for American ideals, her likeness similar to that of the Greek Goddess Athena or the heroic Lady Liberty of French imagination by Eugene Delacroix. Her image and name are repeated throughout US history in wartime imagery and iconography, and the name has been passed down in the Nation's Capital as well as our cinema and music companies. She lives in many works of art throughout history and in the minds & hearts of our predecessors.
Image Source: Bay County Historical Society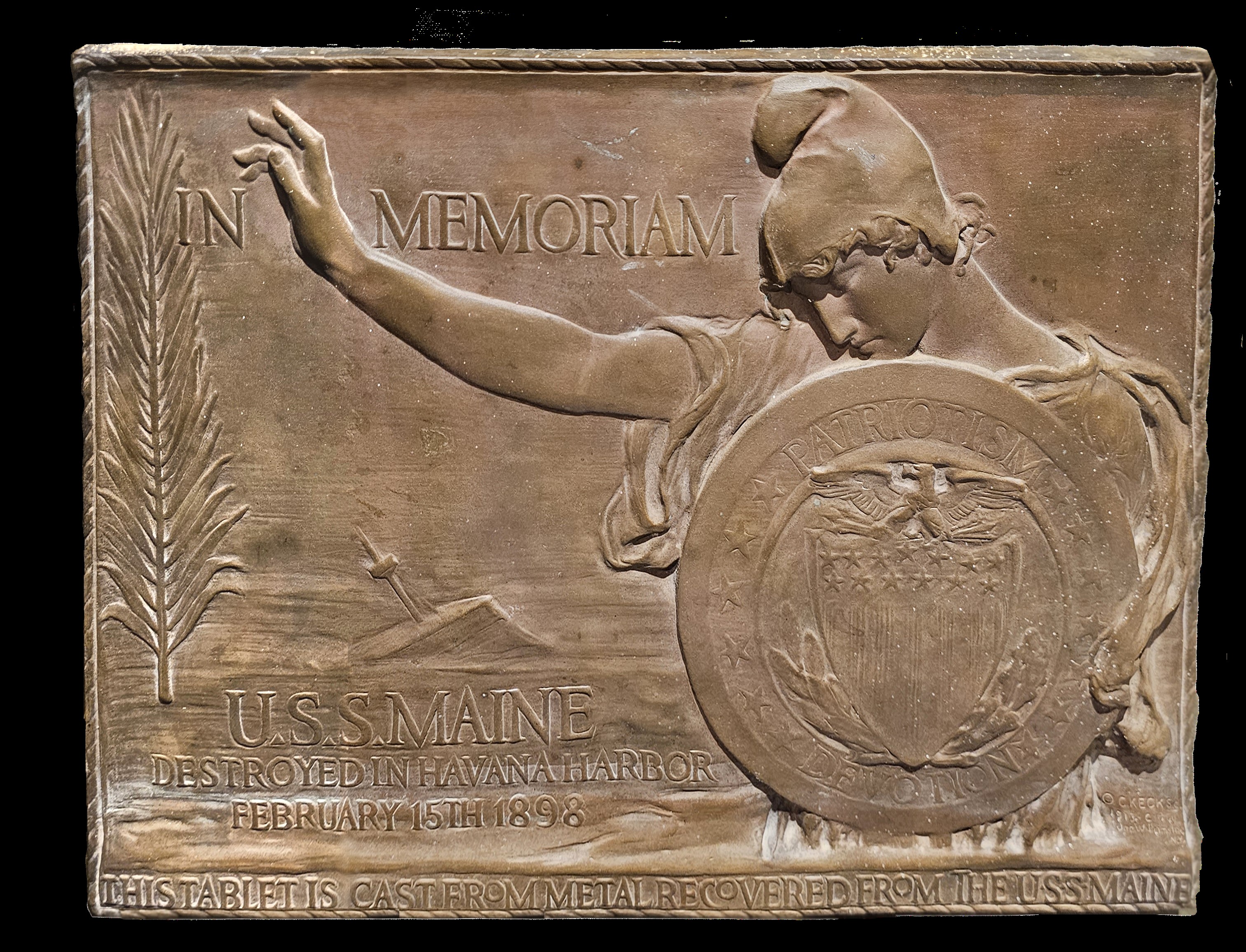 In the Bay County Historical Museum collection there are multiple examples of her image and role she plays in American culture, memory and art. Columbia Gives her Son the Accolade of the New Chivalry of Humanity is one such example. Commissioned by former President Woodrow Wilson and designed by the acclaimed artist Edwin Howland Blashfield in 1919, it is a memorial and honor to those who were wounded or killed while serving in battle during the First World War. In it Columbia stands centered in a ceremonial service with a massive star-spangled banner billowing behind her. In one hand she holds aloft a proclamation document, and in the other an elegant and severe sword. With the weapon placed gracefully on a kneeling soldier's shoulder she acknowledges and knights him. The soldier takes a knee before the barefooted vision and looks into her eyes from below the brow of his steel helmet. He is dressed in a full field uniform with his rifle in hand while the ranks of his brothers in arms stand in solidarity and witness behind them. Blashfield's rendition is an example of a master artist at the height of his talents, one with a keen understanding of medium, realism, composition and symbolism. This image would be copied and dispersed to thousands of Americans and soon after be adopted as the seal of the Disabled American Veterans Organization in 1920.

The Artist

Edwin H. Blashfield was born in New York in the year 1848 and lived until 1936. During his lifetime he studied and practiced Art in America and Europe, earning degrees and awards from some of America's finest Art Institutions. He studied at the Pennsylvania Academy of Fine Arts and afterwards traveled, worked and exhibited throughout the United States and Europe. He learned from academic traditions and honed his skills and expertise in easel and mural painting.

Blashfield's murals decorate numerous American institutions including the Wisconsin, Iowa and Minnesota capitol buildings, the Detroit Public Library, the Library of Congress in Washington D.C. as well as churches in Washington D.C. and New York. He was awarded an Honorary Doctorate of Fine Arts by New York University and served as President of the National Society of Mural Painters. He authored the book "Mural Painting in America" (1913) which was a compilation of lectures he gave expounding his knowledge and insight of mural painting.

Blashfield drew this image of "Columbia" and "Her Son" and from the original artwork a print plate was made. To do this the drawing would have been photographed and with the negative the image would be etched into a copper plate. Using light exposure and a photosensitive coating, the impression is made chemically - changing the surface of the plate. Once the plate was prepared, printing was accomplished in the traditional manner. The resulting image is referred to as a photogravure. In this way the drawing was reproduced efficiently in mass and the copies made out to veterans by inscribing the individual's name in the allotted space. Sometimes copies like these are referred to as "broadsides" - a term from earlier mechanical printing days meaning one side of a sheet of paper was printed on. These could be widely reproduced at low cost and often used as advertising, posters and ephemeral art. E. H. Blashfield's design went beyond a marketing or advertising tool and became a piece of art, dedicated to the many wounded and fallen soldiers he aimed to honor.

The Soldiers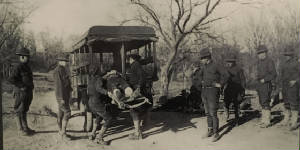 Image Source: Bay County Historical Society
From 1914 - 1918, Europe waged the First World War. After several years of intense fighting, American President Woodrow Wilson agreed to send his troops abroad to combat the Axis powers. Men from the Michigan and Wisconsin National Guard were called to service as part of the American Expeditionary Forces in 1917, making up infantry and ambulance units. They were sent first to Waco Texas for training and arrived in France in early 1918. These Midwestern Recruits formed what was called the "Red Arrow Division" and nicknamed "Les Terribles" by the French. Their fighting was furious enough to conquer twenty-three German divisions in French territory, after which they captured their opponents as well as their weapons, ammunition and artillery. They fought in three major battles, gained back the French ground, and became the first American soldiers to set foot in German soil during the conflict.

To those who survived the battles and the influenza pandemic, many were left maimed with wounds to their bodies and minds. New inventions for human slaughter resulted in casualties that reached into the millions. It was named the "War to end wars", but in many ways it ushered in a new era of war on our planet. In Columbia Gives her Son the Accolade of the New Chivalry of Humanity it seems the title is chosen as something hopeful. Columbia, the Mother of all Americans, knights her Son to bestow on him honor, victory and gratitude. She is electing him the status of a heroic and humble warrior. With this commemorative art, it is a gesture of recognition and respect to all those soldiers who fought and died hoping for a better world. The work recalls the highly refined Classical style and with that harkens Nobility. It is the nobility of each common person who fought this war and gave their lives and limbs, enduring treacherous conditions and terrible danger. It elects them all to the status of knights as they each played their part in a hard won victory.


Sources:

Bay County Historical Society Exhibit "Trails Through Time: Bay County Boys, Les Terribles, The 128th Ambulance Corp"


"Artists - Edwin H. Blashfield, American 1848-1946" Le Trianon Fine Art and Antiques. 2018
https://www.letrianonantiques.com/fine-art/artist-detail/edwin-h.-blashfield

"Broadside (printing)" Wikipedia The Free Encyclopedia. February 6, 2023.
https://en.wikipedia.org/wiki/Broadside_(printing)

"Edwin Blashfield" Wikipedia The Free Encyclopedia. March 17, 2023.
https://en.wikipedia.org/wiki/Edwin_Blashfield

"Columbia (personification)" Wikipedia The Free Encyclopedia. May 11, 2023. https://en.wikipedia.org/wiki/Columbia_(personification)

"Columbia Gives to Her Son the Accolade of the New Chivalry of Humanity Anna Cecelia [i.e., Cecilia] Foldese [i.e., Foldesi], Army Nurse Corps served the honor in the World War and died in the service of her country / designed by E.H. Blashfield, 1919." Library of Congress. 2023 https://www.loc.gov/item/2013650540/

"Columbia Gives to Her Son the Accolade of the New Chivalry of Humanity, World War I" Tennessee Virtual Archive. 2023 https://teva.contentdm.oclc.org/digital/collection/broadsides/id/74/

"Women at the Center; American Woman? Amerique', Columbia and Lady Liberty" New-York Historical Society Museum & Library. October 23, 2018. https://www.nyhistory.org/blogs/american-woman-amerique-columbia-and-lady-liberty

Whitaker, Luke. "What is a Photogravure Print?" Bosham Gallery Collect Photography. April 25, 2021 https://boshamgallery.com/blog/29-what-is-a-photogravure-print/

"WWI Memorial Print Columbia Liberty New Chivalry of Humanity Blashfield" The Designers Consignment. 2023. https://thedesignersconsignment.com/product/31220

Photos from BCHS Collection
by Sam Fitzpatrick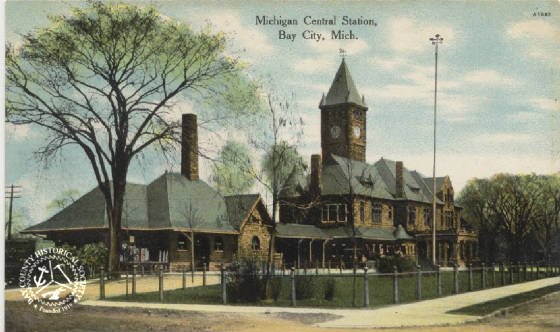 Image source: Bay County Historical Society
Bay County's railroad history can be traced back to 1867 when A. S. Munger constructed a line between Bay City and East Saginaw. Originally, the marshes and swamps made it impossible to build a railroad in this region. The solution was to dredge a canal along the route and add clay subsoil to build up the embankment that supported the tracks. Soon both passenger and freight train lines crisscross Michigan and eventually, the Midwest. People and goods, such as lumber and salt, that were being transported by boat on the Great Lakes now utilized the rail lines. This mode of transportation was deemed less dangerous.
In 1868, Henry Sage and Charles Fitzhugh were instrumental in extending the Jackson, Lansing, and Saginaw Railroad from Saginaw to Wenona, Henry Sage's company town before merging with West Bay City in 1877. This opened a line to a Chicago connection. In 1871, the Jackson, Lansing, and Saginaw Railroad line became part of the Michigan Central Railroad (MCRR). In 1873, this line connected with Detroit through Vassar and became known as the Beeliner. A rail bridge was constructed over the Saginaw River to connect to Wenona, which can be seen today just north of the Liberty Bridge. In 1930, New York Central acquired a 99-year lease of the Michigan Central System and the 'Big Four'—Cleveland, Chicago, Cincinnati & St. Louis Railroad lines.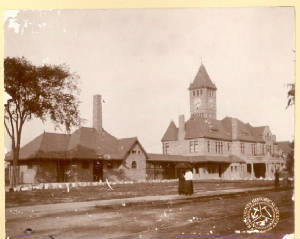 Image source: Bay County Historical Society
Construction on Bay City's Michigan Central Depot., located at 801 First Street, started in June of 1889 and was completed in August of 1890. On September 22, 1890, it opened for business. The architectural firm, Spier and Rohns of Detroit, built it in the Romanesque style, and it was considered an architectural jewel. It cost $65,000 to build and occupied two blocks encompassing Van Buran, First, Monroe Streets, and the railroad tracks. The depot was constructed of Indiana Vermillion sandstone, had an Akron red-stoned roof, and a 104-foot clock tower with a 6'2" clock with faces on all four sides that illuminated at night. The building was 286 feet long, 50 feet wide, and three stories in height. The foundation was made of Point au Barque stone and Joliet water table. Indiana Sandstone was used for the baggage claim. It was a separate building located directly west of the main structure, which still stands at First Street, measuring at 61x36'.
The ceilings were oak, except for red birch in the women's waiting room and the superintendent's office. Some sources mentioned that their reflections could be seen in the wood polish. The south entrance of the building had a semi-circular driveway extending from Monroe to Van Buren streets. It spanned east to west with a porch supported by Romanesque sandstone pillars. There was also a walkway from First Street to the main doors.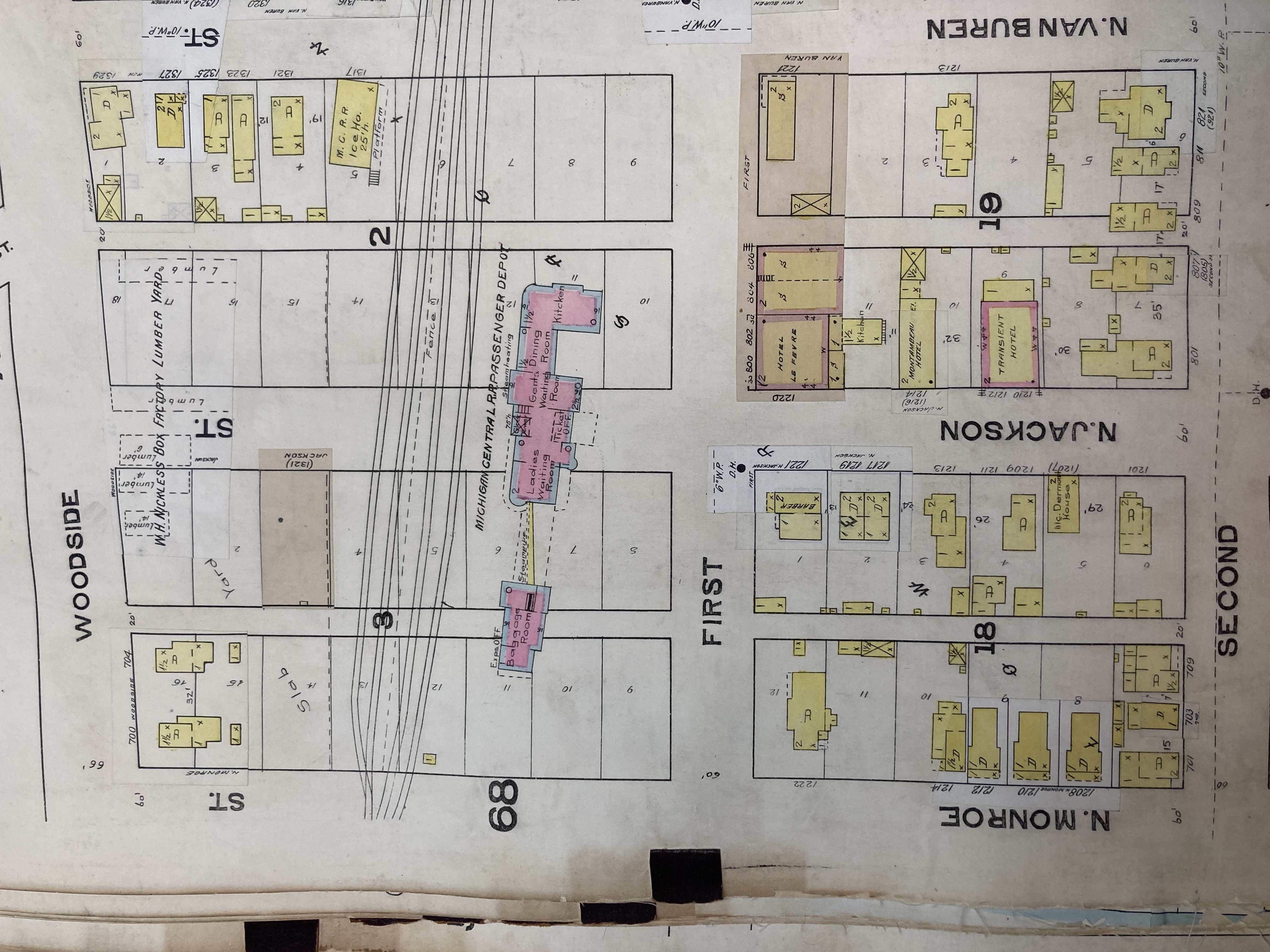 Image source: Sanborn Map, Bay County Historical Society
Inside the main doorway was a 15-foot wide tiled vestibule. The only exit to the outside platform was located here. Uniformed employees guided travelers to their trains. Between the building and the tracks laid a wooden plank platform. The women's waiting room was red birch with pressed brick, a sandstone fireplace, and upholstered furniture. The gentlemen's waiting room was oak. Between the waiting rooms was a ticket office. The dining room was located on the main floor. Each table setting contains a silver-plated monogram "M.C.". A covered walkway connected the depot to the baggage and express building. The depot also housed the freight and engineering offices, baggage department, and telegraph room. At one point, the depot had a staff of over 100 individuals.
A lavish stairway made of polished oak gave access to the second and third floors. On the second floor's northwest corner was the superintendent's office with a semi-circular window that looked out to the yard. This floor also contained sleeping quarters for employees. The third floor featured a private office and drawing room for the civil engineer. The entire depot was heated by hot water and lighted by incandescent electric lamps. Surrounding the entire property was a cast-iron fence.
During the height of rail travel, the Michigan Central depot was the busiest place in town. The train schedule for the MCRR ran from 3:45 am until 9 pm. In June of 1907, a total of 24 daily departures and arrivals on the Michigan Central Line were made at this depot and the west side depot on Marquette; including the Detroit Express, the Chicago Special, Saginaw Division Local, Mackinaw & Marquette, Duluth Special, Vassar Trains, Saginaw, and Midland Accom.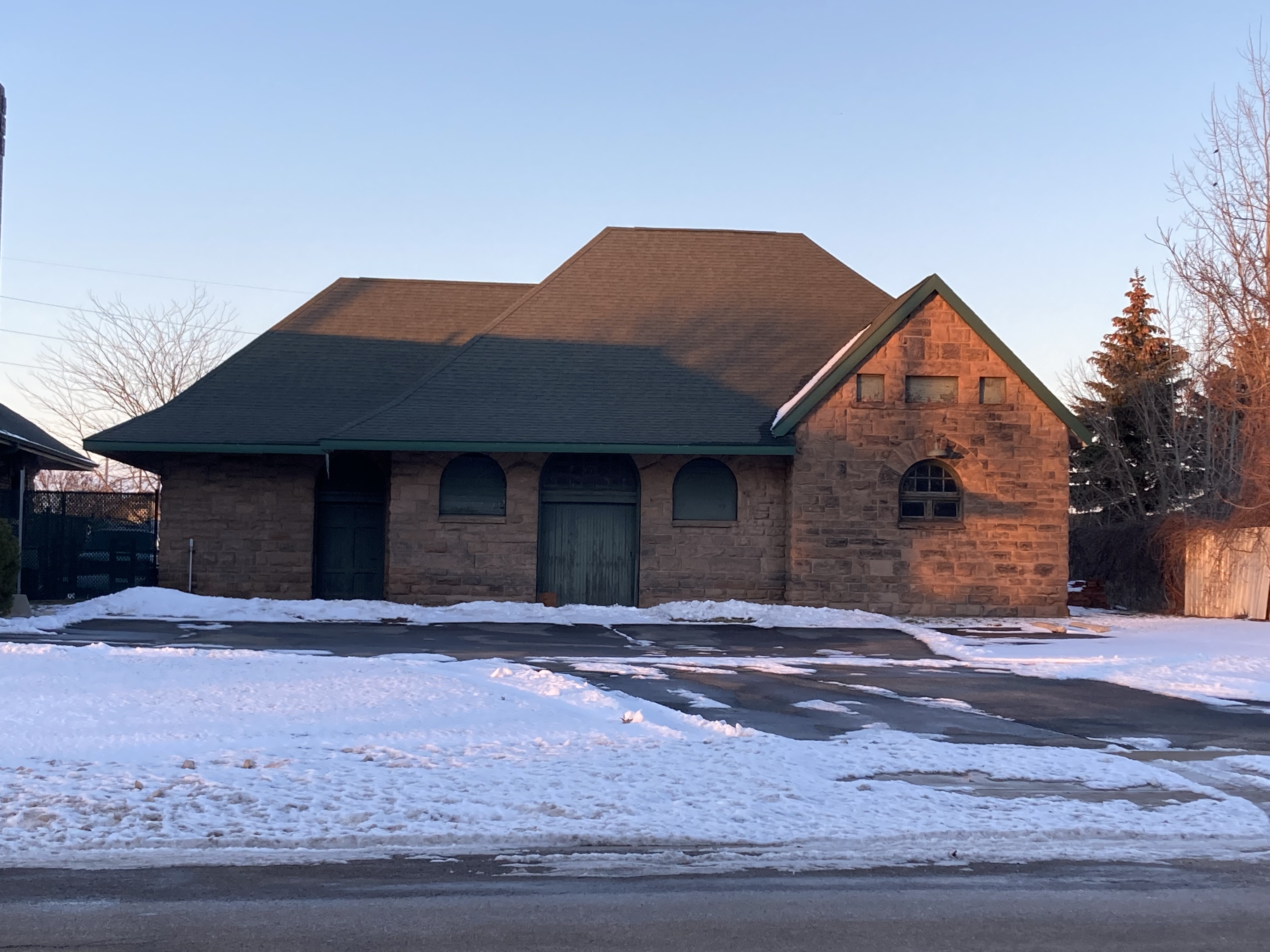 Image source: Present day baggage department. Taken by Sam Fitzpatrick, 2021
The depot remained busy until after World War II. Rail travel saw a decline with the growing popularity of air travel and the affordability of automobiles. The depot closed in 1958, transitioning service to the west side depot on Marquette Avenue.
The vacant building suffered fires in 1948 and 1963. The cause of the first fire was the result of defective wiring on the third floor. The second fire was started by children who ignited paper stuffed in rafters. In 1964, the building was razed to make way for a warehouse for Northern Tobacco and Candy Company. The same week it came down, The Beeliner made its last run from the Pere Marquette Depot, marking the end of 96 years of passenger rail travel in Bay County.
Today, all that remains of the former depot is the baggage building on First Street across from Maplewood Manor and Baytown Family Neighborhood.
Sources:

BCHS Vertical Files

"Era of Passenger Rail Service Fading" Bay City Times. February 23, 1964.

"Retired Railroad Veterans Looks Back" Bay City Times. February 9, 1964.
"RR Fans Ride 'Beeliner' to Oblivion" Bay City Times. March 22, 1964.
"AND DOWN SHE GOES" Bay City Times. February 20, 1964.
"Railroad Passenger Depot Is a Vanishing American Institution" Bay City Times. December 27,
1959.
"New Central Depot." Bay City Times Tribune. June 11, 1890.
"Imposing Edifices" Bay City Tribune. October 11, 1891.
Atlas of Bay City, Mich. Chicago, Il: Published By The Rascher Insurance Map Publishing Co., 1891.
Michigan's Railroad History 1824-2014. Lansing, MI. Published by the Michigan Department of Transportation
https://www.michigan.gov/documents/mdot/Michigan_Railroad_History_506899_7.pdf

---