Friday, March 17, 2023
Did You Know? Holy Rosary Academy
By Sam Fitzpatrick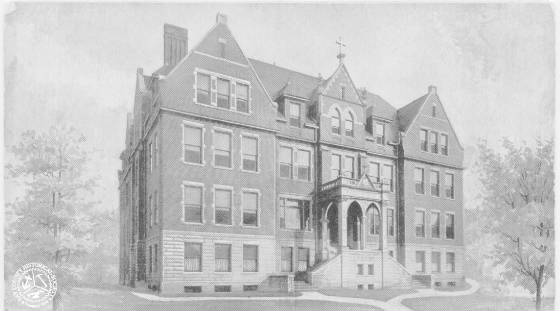 Image Source: Bay County Historical Society
Holy Rosary Academy located at 512 N. Lincoln Ave, was a Catholic Preparatory School. The original building was constructed 1896 and located in Essexville on the south side of Hudson Street, west of the former St. John's School. Today, this is where St. Jude Thaddeus Church stands.
The Academy is Destroyed by Fire
Administered by the Dominican Sisters of Marywood Motherhouse out of Grand Rapids, the Academy remained in this location until 1904, when it suffered a catastrophic fire. The cause was believed to be the product of arsonists.The fire occurred around midnight during the evening of March 8, 1904. The three-story frame building was just shy of a decade old. The house infirmarian, Sister Chrysostoma, found the fire and rang the alarm to wake the building's occupants. Sister Alexia Flynn slept through the alarm, awoke to find herself trapped and jumped from her window, resulting in her breaking her low jaw and leg. She was rushed to Mercy Hospital where she passed away several days later. Originally, the sisters intended to rebuild in Essexville but decided to relocate to central Bay City. One reason was that Essexville had a history of fires leading up to the Academy burning, but the Essexville Council voted down a waterworks system. The Academy chose 512 Lincoln Ave. right beside St. Boniface Church and rectory as its new home.
The New Academy
The structure was built and designed by a local architecture firm Pratt & Koeppe. They also designed and constructed Elm Lawn Cemetery, the Historic Masonic Temple, and First Presbyterian Church. Holy Rosary Academy was built using stone, pressed brick, and galvanized iron. It had cost around $40,000, or $1.2 million today. Construction started on the building in 1904 and was opened for classes on October 2, 1905.
At the time of opening, the first floor contained a kitchen, dining halls, sitting rooms for the sisters, and two recitation rooms. The second floor was used as the main floor and included a library, chapel, music rooms, guest chambers, reception rooms, and recitation rooms. The third floor consisted mainly of classrooms. The fourth floor was used for dormitories with bathrooms, toilets, and more recitation rooms. The basement had a gym, a playroom for younger students, laundry, and drying and ironing apparatuses. The building was also said to be full of lavish woodwork and built-in cabinets. The building accommodated 80 pupils in its dormitories and had additional day students.
Academy's Years of Operation
On June 14, 1906, the Academy was re-dedicated by Most Reverend Henry Joseph Richter on the Feast of Corpus Christi. Priests from around the region attended, along with a 400-member procession, which included the academy's forty pupils. The dedication included blessings, a Gregorian Mass, and other ceremonial events.
Father Wyss, of nearby St. Boniface, served as a temporary chaplain. He had aided in finding a new location after the 1904 fire in Essexville. The building only had resident chaplains on and off.
The school was an all-girls boarding school for 1st through 12th grades until 1924. It had a focus on language, music, art, and elocution. The last class of all-girls graduated from the academy on June 21, 1924, and consisted of seven pupils. During the graduation ceremony, the graduates were followed from the rear of the building to their place on stage by a procession of 30 in the academy chorus. The girls wore caps and gowns and held an arm bouquet of sweet peas, the class flower.
That same year, after a suggestion made by the Bishop Rev. Grand Rapids, Edward Kelly, it became a residential school for boys and a day school for both boys and girls. In September 1954, a kindergarten class opened. The boarding school closed in 1959, but the Academy continued as a coeducational elementary school. In 1974, it became a Montessori program for 3–5-year-olds.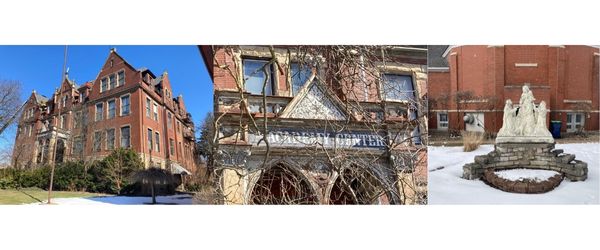 Image Source: Sam Fitzpatrick
Golden Jubilee
In 1954, the academy turned 50 years old and held a Golden Jubilee celebration on October 7th and 10th. It featured many clergy members from across Michigan. The October 7th celebrations consisted of a Pontifical Low Mass, a dinner in the dining hall for diocesan clergy members, and a Solemn Benediction of the Most Blessed Sacrament in the academy chapel. The October 10th ceremonies included a homecoming celebration consisting of a Mass of Thanksgiving, a Solemn Benediction, and other festivities.
On October 2nd, 1955, during the afternoon services, the rosary shrine was dedicated with the Most Rev. Stephen S. Woznicki, Bishop of Saginaw, officiating. The homecoming event was held with tea served in the academy lounge by the Third Order of St. Dominic. The outdoor dedicatory rites concluded the Golden Jubilee. The shrine was a three-figure rosary group statue composed of white Bianco marble set on a French stone base. Mrs. Joseph St. Laurent donated the main figures, the Virgin Mary and the child Jesus. The Third Order of St. Dominic donated the statue of St. Catherine of Siena, and friends and alumni of the Academy donated the statue of St. Dominic.
The Academy Closes
In December 1977, Holy Rosary Academy failed a fire inspection. The Wenonah Apartment building fire had occurred that same month. In an interview with the Bay City Times, Fire Marshal Chester Rezler said they had performed an extra inspection due to not wanting another catastrophic fire with loss of lives. The Academy was given 18 months to bring the building up to code. This included the installation of closed stairways, removing combustible materials, installing smoke detectors and fire alarms, enclosing the boiler room, and fireproof window frames, and rewiring areas that did not meet the city's electrical code. Also, reported by the Bay City Times, were claims from volunteers who were putting on a festival at the Academy that lights were out for short periods. It was found that 30 amp fuses were being placed in fixtures designed for 15 amp fuses.
The plans for bringing the building up to code were rejected as being too costly. In 1979, the building was sold by the Sisters of the Order of St. Dominic out of Grand Rapids. Patrick Brady, a Bay City attorney, and former student converted the Academy into law offices. In September of that year, the antiques and old-school materials inside were auctioned off. Over one thousand people attended to bid on items which ranged from leaded stained-glass windows, Bentwood chairs, a Wurlitzer reed organ, a 1904 Steinway Piano, mahogany tea carts, a French curio cabinet with glass shelving, and a cane wheelchair. Other items that weren't set for auction were donated to area parochial schools. In total, there were 440 registered buyers for the 777 items up for auction. In 1980, the Academy moved into the former St. Mary's School located at 607 E. S. Union St. The very last item to be removed from Holy Rosary Academy was the white Bianco marble statues of the Virgin Mary, Jesus, St. Dominic, and St. Catherine of Siena. They had stood at the school from its golden jubilee until its removal in July of 1979. They were relocated to the St. Mary's location where it still stands to this day.
Eleanor Meagher, one of the last seven students to graduate from the all-girls school in 1924, attended the auction. She reminisced to the Bay City Times about her days at the Academy as a day student during World War I and the early 1920s. She recalled meeting students from Detroit and studying piano. The nuns there were well-known for being good music instructors. She did not pursue a career in music but moved to Detroit to work for the Internal Revenue Service. After retirement, she returned to Essexville.
Holy Rosary Academy remained operational at the St. Mary's location until June 1987. Due to declining enrollment and revenue losses, the Academy merged with Visitation Elementary School and was named Notre Dame Academy. It was located on State Street, now the home of State Street Academy. Today, the former Holy Rosary Academy building on N. Lincoln is home to Martin Law.
Sources:

"56 Lives in Danger." Bay City Times. March 14, 1904, The Evening Times Edition.
"Academy auction attracts 1,000." Bay City Times. September 16, 1979.
"Academy auction reflects school's colorful history." Bay City Times. September 14, 1979.
"Academy Plans Jubilee Rites." Bay City Times. August 14, 1954, The Bay City Times Extra edition.
"Academy Shrine Rite is Today". Bay City Times. October 2, 1955, The Bay City Times Extra edition.
"Academy Slates Shrine Rites." Bay City Times. September 25, 1955, The Bay City Times Extra edition.
"Bishop to Officiate in Dedication of Academy Rosary Statue Group." Bay City Times. September 24, 1955, The Bay City Times Extra edition.
Burzyck, Deborah. "Tale of Two Schools." Bay City Times. April 26, 1987.
"Contracts Today." Bay City Times. July 19, 1904, The Evening Times edition.
"CPI Inflation Calculator," n.d. https://www.bls.gov/data/inflation_calculator.htm.
"Dedicated Today." Bay City Times. June 14, 1906, The Evening Times edition.
"Holy Rosary Fails Fire Standards; Old School May Have to Close." Bay City Times. March 10, 1978.
"Holy Rosary Academy in Golden Jubilee Celebration." Bay City Times. October 3, 1954, The Bay City Times Extra edition.
"Holy Rosary Has 18 Months To Meet Codes or Relocate." Bay City Times. March 18, 1978.
"Holy Rosary Opens Thursday." Bay City Times. September 4, 1954, The Bay City Times Extra edition.
"Holy Rosary Saved by Donor?" Bay City Times. April 29, 1978
"Is A Murderer." Bay City Times. March 19, 1904, The Evening Times edition.
"It Opens Today." Bay City Times. September 30, 1905, The Evening Times edition.
"Last Girls' Class Graduates From Holy Rosary Academy." Bay City Times. June 13, 1924, The Bay City Times Tribune edition.
"Miss Meagher recalls Academy days." Bay City Times. September 16, 1979.
"People To Decide." Bay City Times. February 16, 1904, The Evening Times edition.
Pratt & Koeppe Newspaper BCHS Library
Rogers, David. "Academy moving to west side." Bay City Times. February 22, 1979.
Schwind, Mona."Period Pieces: An Account of the Grand Rapids Dominicans, 1853-1966". United States: Sisters of St. Dominic, 1991.
"Souvenir The Golden Jubilee of The Rev. John G. Wyss Pastor of St. Boniface Church. Bay City, Michigan." June 27, 1937.
"Statue is the last to leave academy." Bay City Times. July 26, 1979.
"To Open Sept. 18." Bay City Times. August 10, 1905, The Evening Times edition.
4:22 pm edt
Wednesday, March 1, 2023
Drawing on the Past: A Look at Ralph Misiak's Portrait of City Hall
By David K Hohenstein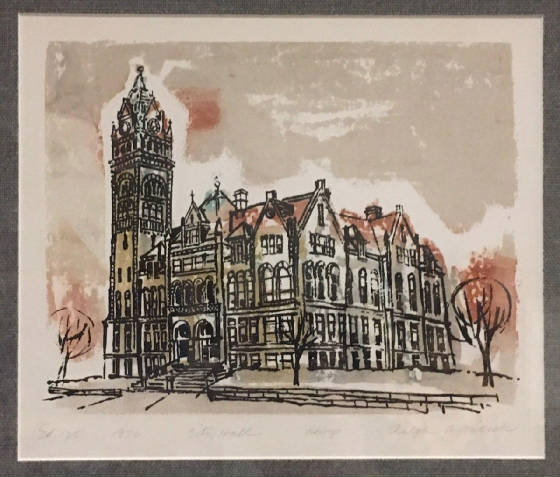 In the main entrance hallway of the Historical Museum of Bay County, hanging on the right side wall, you will see a lively artist's rendition of our neighbor, City Hall. This piece caught my eye and inspired my curiosity because of the combination of its free mark-making and stylization along with its loyal attention to the details of the historic building. The artist, Ralph A. Misiak, gives us a charming and accurate representation of this landmark, composed in the black linework, shapes and shadows that make up the structure. An almost cloud-like application of color gives the picture life and depth. With his signature and numbered editions written in pencil just below, you can see this is a print; just one of many.
This picture, dated 1970 and titled "City Hall" is one in a series of eight commissioned by Paul T. Kusmierz - the owner and operator of the former Gallery of Arts in Bay City. At that time Misiak had already completed three series of scenes and landmarks from the Saginaw area and Kusmierz requested of him a series for Bay City. The collection includes scenes such as the Wenona Beach Casino, Third Street Bridge and Farragut School. The Gallery of Art was to be the sole handler of the Bay City Print Series but in 1971 Misiak donated a set of eight to the Bay City Public Library in celebration of their centennial. In 2017 the series was featured in an exhibit at the Castle Museum in Saginaw - "Becoming Modern: Saginaw Architects Reshape Their Community 1945 - 1976". Misiak made 125 copies of each scene, totaling 1000 prints, with a printing process called serigraphy, which today is better known as screen-printing and silkscreen.
To create an image using a silkscreen, an artist has a few methods to meet their ends but the basic idea is that an image is created by pushing ink through a very fine and tightly stretched fabric mesh onto a surface. Areas of the screen are blocked where the ink will not pass through thus creating the image on the other side. A silkscreen can be very sophisticated as an art form or as simple as a single colored logo. Multiple layers and colors can be built up on top of one another to create depth, complex color combinations as well as linework and text. Great examples include the poster art of Dennis Loren (also featured at the museum) and many other artists and illustrators that have taken this method to its rich potential. Examples include Andy Warhol, Shepard Fairey, and Roy Lichtenshtein, but there are countless others embracing the craft and the potential is virtually unlimited within the visual art realm. Applying the silkscreen, one can also create a vast number of prints all of a highly regulated consistency, making its advantageous commercial applications clear. Yet every copy made will have its own unique variation, making each print truly one of a kind.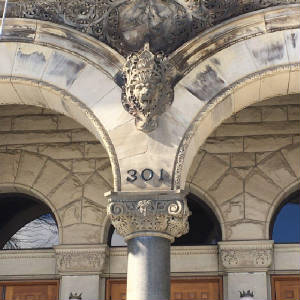 City Hall itself is an epic in stone, designed by the architects Pratt and Koeppe in 1892 after the vote was passed to construct an alternative to the 814 Saginaw Street location. Building was completed in 1897 and housed multiple governmental and administrative offices including mayor, city counsel, comptroller, attorney, engineer, police department and jail. It was even the home of the Bay City Public Library from 1903 until the conclusion of the first World War. Upon dedication, the Mayor of Bay City, Hamilton Wright, is quoted saying, "We have now one of the finest examples of municipal architecture in the modern Romanesque style to be found in this country… Beautiful in conception, artistic in finish to its smallest detail, convenient in arrangement and admirably adapted to every need of the public service, it leaves nothing to be desired." Misiak's portrait of the building indeed invokes this sense of admiration and also a cherished familiarity to onlookers.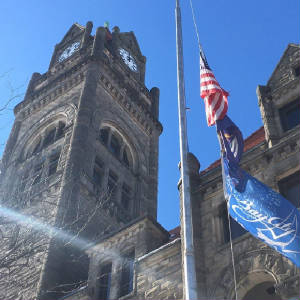 Ralph A Misiak was born in Chicago in 1930, and later moved to Michigan, settling in Saginaw. There he became a prominent and active artist for several decades. He was a professional in the field of commercial and graphic art, and for a time owned and operated his own ad agency and studio. In 1961, he was the President of the Saginaw Artist's Guild and would go on to teach classes focused on commercial art in the 1970's at Delta College. He himself transitioned from commercial art to a focus on fine art and the silk-screens later on in his career. He was also an accomplished illustrator, an award winning painter, as well as a husband and father. He passed away in Saginaw, in 1985.
Resources:
Bay City Times (Bay City, Michigan), May 23, 1971: 9. NewsBank: America's News – Historical and Current. https://infoweb.newsbank.com/apps/news/document-view?p=AMNEWS&docref=image/v2%3A1244BFDF920A8046%40EANX-16FC6EF328CBC425%402441095-16FC6D8C038592BB%408.

Bay City Times (Bay City, Michigan), April 19, 1970: 17. NewsBank: America's News – Historical and Current. https://infoweb.newsbank.com/apps/news/document-view?p=AMNEWS&docref=image/v2%3A1244BFDF920A8046%40EANX-NB-16FC5F29A68BF978%402440696-16FC5E33E7075CF9%4016-16FC5E33E7075CF9%40.

Bay City Times (Bay City, Michigan), January 17, 1977: 11. NewsBank: America's News – Historical and Current. https://infoweb.newsbank.com/apps/news/document-view?p=AMNEWS&docref=image/v2%3A1244BFDF920A8046%40EANX-NB-1703178547CE6F8D%402443161-170311E512617B4F%4010-170311E512617B4F%40.

Bay City Times (Bay City, Michigan), January 5, 1961: 8. NewsBank: America's News – Historical and Current. https://infoweb.newsbank.com/apps/news/document-view?p=AMNEWS&docref=image/v2%3A1244BFDF920A8046%40EANX-16F19645961DB390%402437305-16F03E8397142474%407.

Bay City Times (Bay City, Michigan), March 29, 1970: 31. NewsBank: America's News – Historical and Current. https://infoweb.newsbank.com/apps/news/document-view?p=AMNEWS&docref=image/v2%3A1244BFDF920A8046%40EANX-NB-16FC6241DEF4E758%402440675-16FC61E01B95987C%4030-16FC61E01B95987C%40.
Wolicki, Dale Patrick. The Historic Architecture of Bay City, Michigan. McKay Press, Midland, MI: The Bay County Historical Society, 1998.
Schrier, Jeff. "Becoming Modern: Saginaw Architects Reshape Their Community 1945 - 1976" MLive.com, March 2nd, 2017. https://www.mlive.com/news/saginaw/2017/03/becoming_modern_architect_exhi.html

Ralph Alexander Misiak 1930-1985 - Ancestry® - Ancestry.com
---
1:39 pm est
Thursday, February 16, 2023
Carroll Park, Bay City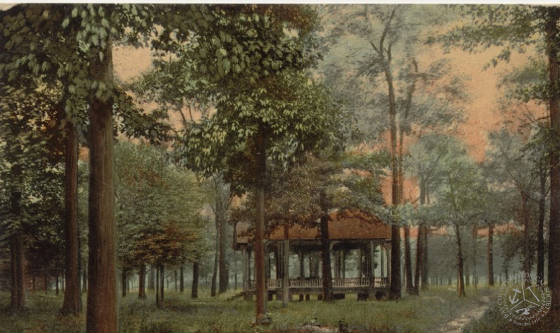 Image Source: Bay County Historical Society
"…pic-nics, and pleasure gatherings of the city folks. Being so near the residence portion of the city, it is very handy and businessmen and families can take their noonday meals there without the loss of much time."
A description of Carroll Park found in the Bay City Daily Tribune, 1884
In the 19th century, during the Industrial Revolution the park was a symbol of health, beauty, and an inner-city getaway for all, regardless of class. Cities had grown as individuals migrated from rural farms to urban centers to find work in factories. This caused crowded conditions and a lack of "breathable space". Fortunately for the citizens of Bay City, the creation of Carroll Park offered an opportunity to escape the busy urban life. The park was much more wooded in the 19th century and underwent many changes, including the addition of a duck pond, pedestrian bridge, and a Gazebo. Today, users of the park can also enjoy the tennis courts, playground, picnic pavilion, and grills.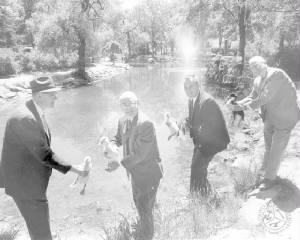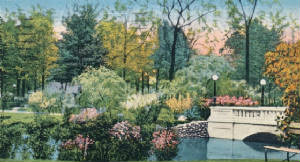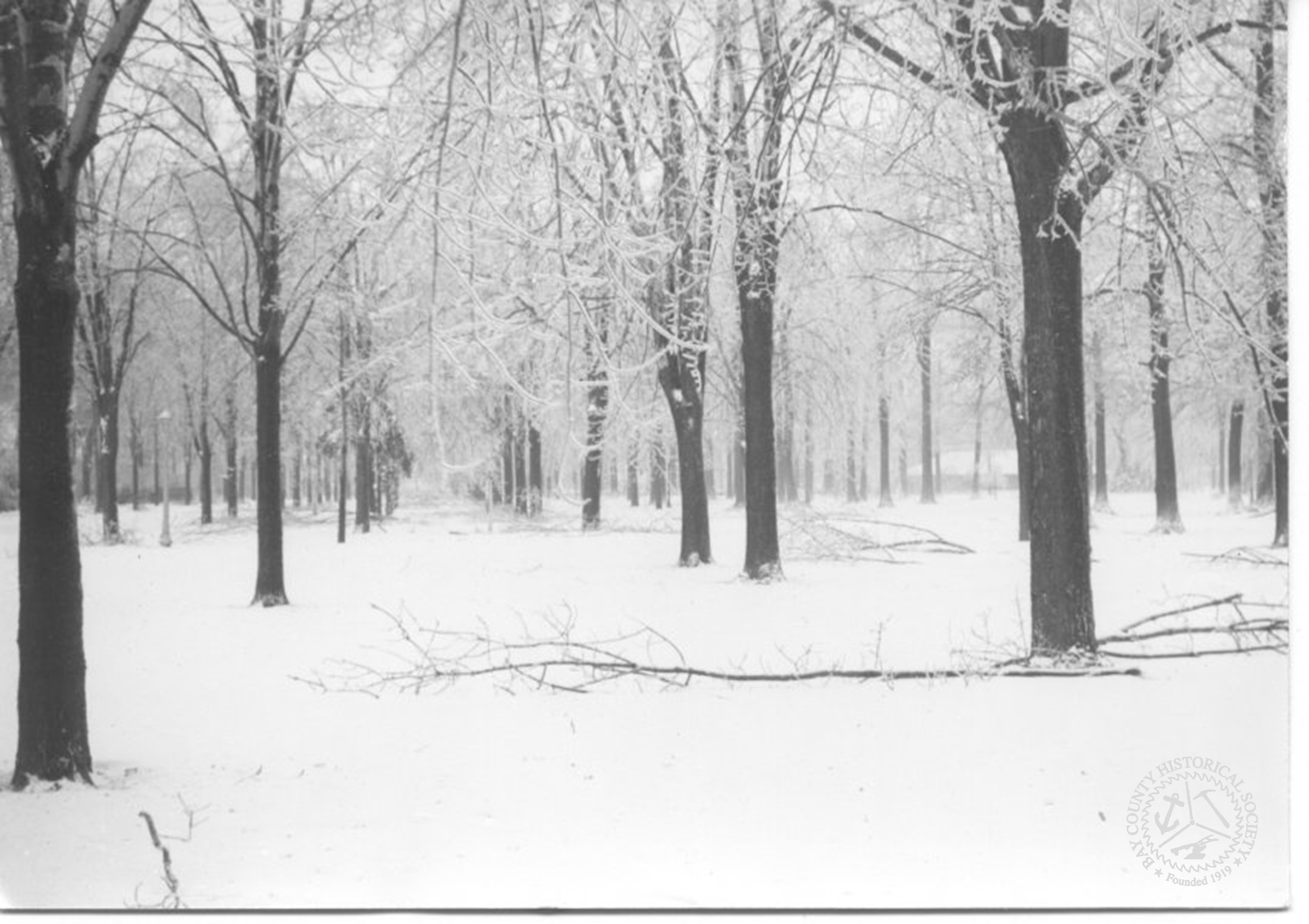 Images Source: Bay County Historical Society Photograph Collection
Left: Carroll Park rotary Clup planetary ducks on pond in Carroll Park, June 19, 1963
Center: date unknown
Right: Carroll Park Ice Storm, March 9, 1942.
Carroll Park is one of Bay City's oldest parks, located in the Center Avenue Historic District, north of Center Avenue and about a mile east of downtown. Its amenities include 3.7 acres of walkways, green spaces with large trees that offer shade from the sun, a pond, tennis courts, a playground, a pavilion, and public bathrooms. Its west side is bounded by Park Avenue between Fourth and Third Streets, on the north side by Carroll Road following the curve, and on the south side Groveland Road. The curvature of the park and the platted area follows the curvature of the former Michigan Central Railroad line that ran along Livingston Road (where the rail trail is now situated).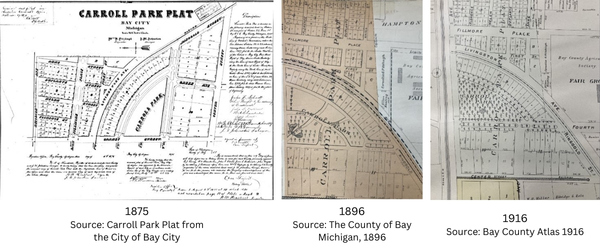 William D. Fitzhugh & Anne Carroll
In 1849, William D. Fitzhugh and his wife Anne Carroll came to what was Lower Saginaw, now Bay City from Livingston County, NY. His father, Dr. Fitzhugh, and business partner Judge Charles Carroll came to the Saginaw Valley in 1834 to purchase and invest in land. Dr. Fitzhugh owned land that would eventually make up West Bay City, and was a major proprietor in Lower Saginaw. William looked after his father's land interests and surveyed much of the land within this region for irrigation and ditching to improve farm work. He even helped tend to the sick and dying during the Cholera outbreaks in the 19th century. He lived on Third and Water Streets, but after a fire in 1850, he built a new home on the corner of Tenth and Washington (at the present site of Bay City Hall). He sold this property to his brother, Daniel Fitzhugh, who later sold it to the City.
In 1866, William Dana Fitzhugh filed a new plat in the City encompassing most of the area south of Center Avenue within the southeastern section of the current historic district. By 1869, the "Fitzhugh Addition" was platted to the area north of the 1866 plat. The only large plat remaining was the Carroll Park Plat which came in 1875.
The Fitzhughs were the founders of the Trinity Protestant Episcopal Church. Anne was one of the five original communicants at the first service in Saginaw and continued to hold membership at the Bay City location. In his old age, William Fitzhugh decided to return to Livingston County, NY where he passed away in 1889. He is buried there with his wife Anne, who passed in 1905.
According to History of Bay County Michigan, 1905, the Fitzhugh's gifted a "valuable tract of land" to Bay City, which was owned and presented to Anne by her father Judge Carroll. Later, it was given to the City and named "Carroll Park" in honor of Anne and her father's work in the area.
Frederick Law Olmsted: Where is the Evidence?
In the past, it was rumored that Frederick Law Olmsted designed the park. However, it is not listed on the National Association for Olmstead Parks website, and there is no evidence to support this belief. Olmstead designed Belle Isle in Detroit, New York City's Central Park, and numerous others across the US and Canada.
**Note: January's Art & History: Carroll Park program was a collaboration between Studio 23/ The Arts Center and the Bay County Historical Society. The content of this blog article was taken from Sam Fitzpatrick's presentation for the program.
Resources:
Bay City Tribune, November 1887
Bay County Historical Museum Archives

Expanded Center Avenue Local Historic District Bay City, Bay County, Michigan Prepared On Behalf Of The City Of Bay City And The Center Avenue Local Historic District Study Committee, 419 N. Madison Avenue Bay City, Michigan 48708 Prepared By Commonwealth Cultural Resources Group, Inc. 2530 Spring Arbor Road Jackson, Michigan 49203
Find A Grave. Found at: https://www.findagrave.com/
Human Benefits of Green Spaces. The University of Delaware School of Agriculture & Natural Resources. Found at https://www.udel.edu/academics/colleges/canr/cooperative-extension/fact-sheets/human-benefits-of-green-spaces/
Robinson, Elaine H. (2011) Architectural Historian Evelyn Tidlow, Project Manager Sam Fitzpatrick's personal photos The Bay City Times
1:54 pm est
Tuesday, January 24, 2023
Michigan Rock and Roll Legends Hall of Fame: Daniel's Den – Premier 60's Rock and Roll Teen Club
By Gary (Dr. J) Johnson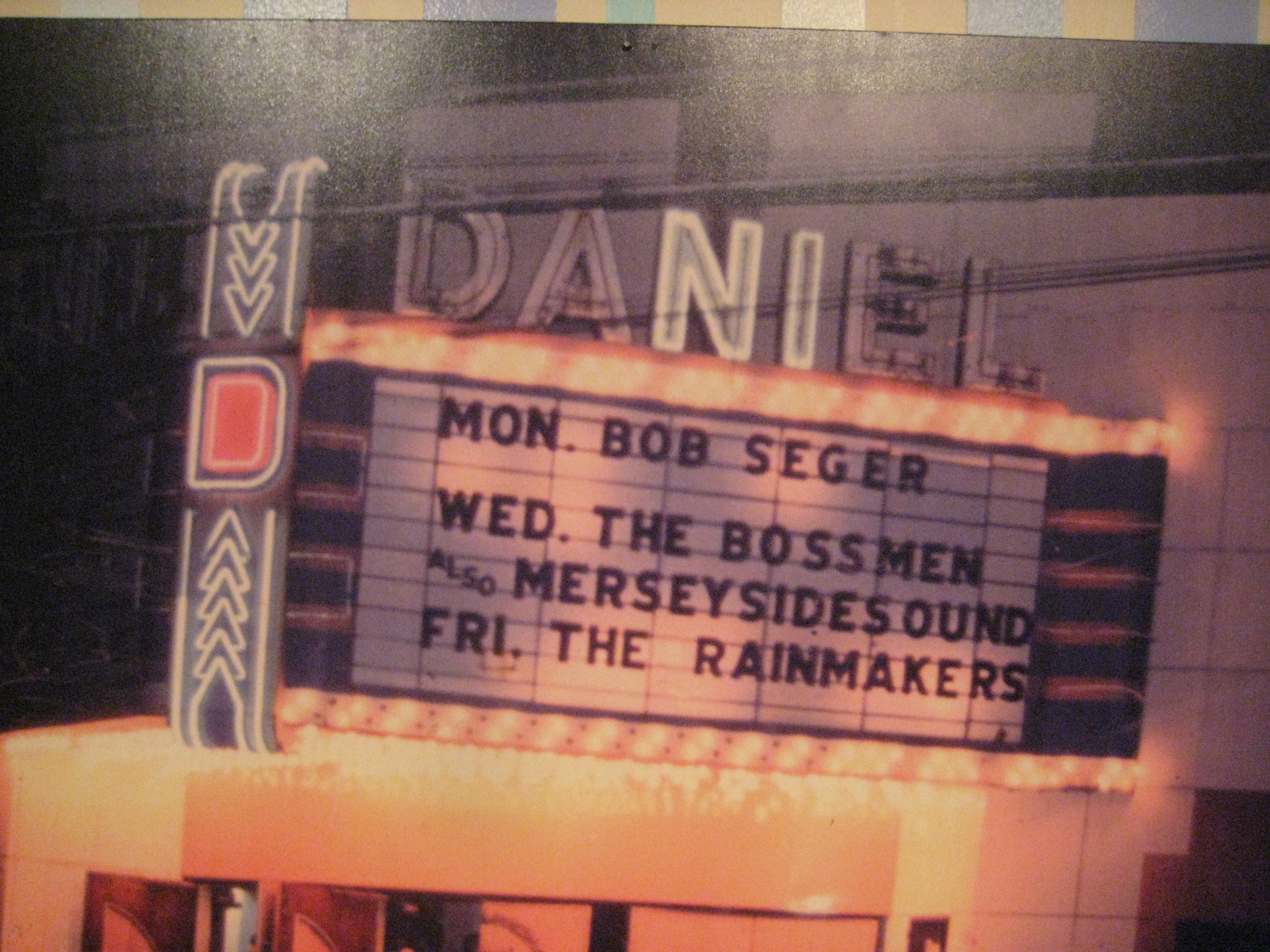 During the middle of the 1960's, Michigan produced a great number of rock and roll bands. Inspired by the guitar-driven British Invasion groups and irresistible dance beats of Motown, these young bands played a circuit of newly emerged teen clubs in the state. These included, to name just a few, The Hideout in Harper Woods, Band Canyon in Bay City, Mt. Holly in Flint, The Scene in St. Ignace, The Fifth Dimension in Ann Arbor, Sherwood Forest in Davidson, Club Ponytail in Harbor Springs, The Sceen in Lansing, and the Tanz Haus in Traverse City.
Among all of these popular venues, Daniel's Den located at 2525 State Street in Saginaw stood out as one of the most elegant and well-kept teen night clubs in the state, every bit the equal of the more famous Grande Ballroom in Detroit.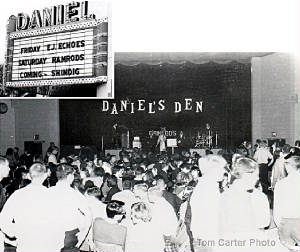 The original Daniel Theatre building was located in northwest Saginaw. Constructed with an art deco design during the golden age of movies, it had become a victim of television during the 1950s like so many neighborhood theatres around the state and nation. By the early 1960s, The Daniel Theatre survived by targeting younger audiences with offerings of double features comprised of second and third-run action or comedy movies augmented with cartoons - all for the princely sum of 25 cents. In addition, musician Kenny Roberts often appeared at the theatre during matinees to sing his local hits: "Choc'late Ice Cream Cone" and "Cheer Up, Things Could Be Worse".
Roberts, billed as "The Jumpin' Cowboy", had his own daily children's television show on WNEM-TV starting in 1961 that featured cartoons and Roberts' trademark yodeling. The Kenny Roberts Show was popular with Saginaw Valley youngsters, many of whom would become guests in the studio and jump up and down on camera with Kenny while he performed his songs.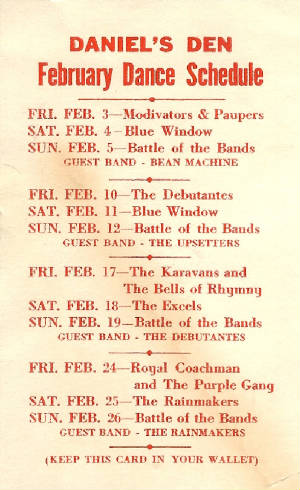 By 1964 the Daniel Theatre had three new owners and an idea that would transform the structure. The triumvirate included Saginaw attorney Allan Schmid, local businessman Frank Patrick, and a teacher at Arthur Hill Tech named Bob Parsons. The idea for a non-alcoholic "club" where teens could meet and dance actually came out of a discussion in one of Parsons' classes. His students complained, "There was nothing to do in Saginaw," and suggested a place where they could regularly meet and dance. Parsons then took the idea to Patrick and Schmid.
Despite the concern of some community members over the potential for juvenile delinquency, the trio transformed the old Daniel Theatre into a non-alcoholic 'key club' called Daniel's Den. Based loosely on the concept adopted by the adults-only Playboy Clubs across the country, teens would pay a membership fee and receive an actual key for entry into the club.
Patrick calmed the fears of skeptical members of the Saginaw community by claiming he was attempting to teach young adults the social graces – how to properly engage with the opposite sex. In this spirit, Patrick and his wife Viola concocted non-alcoholic 'virgin' cocktails, sold at the snack bar at Daniel's Den, and provided area teens with a safe environment in which to learn how to better socialize with each other.
Daniel's Den opened for business in 1964. The initial idea of a key club only lasted for a couple of months, however, as the owners found that it was easier and more profitable to simply open the club up to all interested teens.
The music was non-stop at the Den. Club deejays John Coughlin, Bill Eberline, and Gary Major would spin the Top 40 hits on the nights when no bands were scheduled to play. They would also fill the gaps before each band took the stage and during intermissions with the latest 45s, but the biggest attraction was always the live music.
Frank Patrick presented an interesting combination of national, regional, and local acts at Daniel's Den, and people who dealt with Patrick remember him for his iron-clad performance contracts at the club. Ron Cunningham, the current owner of Prime Brothers Furniture, was the drummer for The Del Raes, a popular Bay City band that played many times at Daniel's Den. Cunningham has in his possession a cancelled check written by Frank Patrick for $70, the amount the Del Raes were paid for playing one night at the club.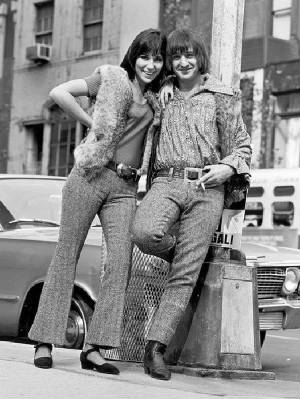 Cunningham recently told me that his biggest thrill during those days occurred in 1965 on the night that his band was hired to back Sonny & Cher who were touring behind their # 1 hit "I Got You Babe". Cunningham fondly remembered the difficulty he had keeping the beat while Cher was singing and shaking her long hair and shapely hips in front of him on the Den's stage.
Read the entire the story at: https://michiganrockandrolllegends.com/index.php/blog/210-daniel-s-den-60-s-teen-club
Enjoy more great Michigan rock and roll history by visiting the Michigan Rock and Roll Legends Hall of Fame exhibit at the Historical Museum of Bay County, located in Bay City, Michigan.
**Gary is a retired history teacher and the currator of the Michigan Rock and Roll Legends Hall of Fame exhibit.

---
10:47 am est
Wednesday, January 11, 2023
In the Stacks with Jamie Kramer: Pratt Family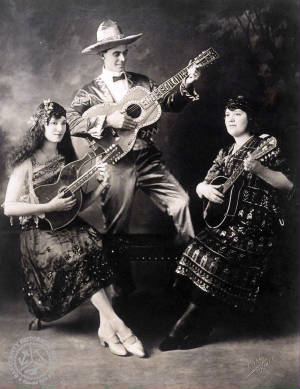 Image: The Tropical Trio: Elsie, Chancy, & Lucille Pratt (Bay County Historical Society Collections)[xv]
Elsie Caroline Butterfield was born on November 9, 1879 in Bay City, Michigan to parents Charles Butterfield and Mary Butterfield (née Madden). [i] She married Chancy Pratt in 1901, while she was living in Omer, Michigan with her sister, working as a hotel domestic.[ii] Together, Elsie and Chancy had daughter, Lucille Pratt, in 1902, and son, Clyde Pratt, in 1904. The family moved throughout the United States with a travel trailer, landing in Wisconsin, Washington, California, Indiana, Illinois, and back to Michigan; entertaining numerous communities.
Lucille Pratt showed musical inclination at a young age. Whether it was a musical instrument or dance, she excelled. She began attending Michigan Conservatory of Music in Detroit, Michigan around 1904 [iii]. She was a well-known pianist and regularly played concerts. By age eight she had played Ludwig van Beethoven's Concerto Op. 58 at Grinnell Hall on Woodward Avenue. [iv] She went on to the Leib School of Music and Dramatic Arts that was located in the Grand Circus Park. In 1912 and 1913, she studied under Josef Lhévinne from Berlin, Germany.
From 1910 to 1918, the family lived in Seattle, Washington [v] However, tragedy struck when Clyde Pratt died on April 21st, at the age of 14.[vi]
In the early 1920s, Lucille Pratt married August Lochte from Hammond, Indiana. He was also an entertainer and was well-known for his whistling and mimics. [vii] Together they had a son, Ollie Lochte, in 1925.[viii]
During this time, Elsie and Chancy Pratt moved back to Bay City. They moved in with her parents at 1008 14th Street.[ix] They entertained many parties throughout Michigan, playing Hawaiian music. Chancy and Elsie had a trio, together with Lucille, called the "Tropical Trio."[x]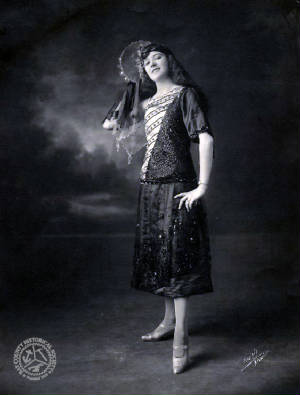 Image: Lucille Pratt Lochte (Bay County Historical Society collections)[xvi]
While they continued to entertain locally, daughter Lucille was making a name for herself throughout the country. August and Lucille began traveling with the Jennings tent show in 1936. August's career ended abruptly in March of 1938, when he took sick.[xi] He died a few weeks later. However, Lucille continued traveling with the show—performing shows in a new city each week. It was said that her son Ollie attended a new school in a new city each week, never attending the same school twice. [xii]

Elsie Pratt, nee Butterfield, died in Bay City's Mercy Hospital on May 30, 1944. Chancy Pratt continued on in Bay City and eventually remarried. He travelled between Bay City and Tawas until his death on August 18, 1947.[xiii]

After the death of her husband, Lucille settled in California with her son, Ollie. She remained there until her death in 1987.[xiv]

---
References:
iAncestry.com, "Michigan, U.S., Births and Christenings Index, 1867-1911," database on-line, (http://www.ancestry.com: accessed Jan 2023), entry for Elsie C. Butterfield, (1879).
iiAncestry.com, "Michigan, U.S., Marriage Records, 1867-1952," database on-line, (http://www.ancestry.com: accessed Jan 2023), entry for Elsie C. Butterfield and Chancy Pratt, (1901).
iii Detroit Free Press (Detroit, MI), 29 Jan 1904, p. 12, digital images, Newspapers.com by Ancestry (http://www.newspapers.com: accessed Jan 2023).
ivThe Detroit Times (Detroit, MI), 27 Feb 1909, p. 5, digital images, Newspapers.com by Ancestry (http://www.newspapers.com: accessed Jan 2023).
v1910 U.S. census, King County, Washington, population schedule, Seattle, Enumeration District 0113, p. 1A, dwelling 6016, family 1, Pratt: digital images, Ancestry (http://www.ancestry.com: accessed Jan 2023); from National Archives microfilm publication T624, roll 1659, image 1.
viAncestry.com, "Washington, U.S., Death Records, 1883-1960," database on-line, (http://www.ancestry.com: accessed Jan 2023), entry for Clyde Pratt, (1918).
viiNewsport News (Newsport News, Virginia), 12 Oct 1924, p. 7, digital images, Newspapers.com by Ancestry (http://www.newspapers.com: accessed Jan 2023).
viiiAncestry.com, "Indiana, U.S., Birth Certificates, 1907-1944," database on-line, (http://www.ancestry.com: accessed Jan 2023), entry for Ollie Romain Lochtee, (1925).
ixAncestry.com, "U.S., City Directories, 1822-1995," database on-line, (http://www.ancestry.com: accessed Jan 2023), entry for Chancy and Elsie Pratt, (1940).
x Information from Bay County Historical Museum Files
xiThe Times (Hammond, Indiana), 24 Mar 1938, p. 28, digital images, Newspapers.com by Ancestry (http://www.newspapers.com: accessed Jan 2023).
xiiIndian Valley Record (Greenville, CA), 11 May 1939, digital images, Newspapers.com by Ancestry (http://www.newspapers.com: accessed Jan 2023).
xiiiThe Bay City Times (Bay City, MI), 19 Aug 1947, p. 4, digital images, Newspapers.com by Ancestry (http://www.newspapers.com: accessed Jan 2023).
xivAncestry.com, "California, U.S., Death Index, 1940-1997," database on-line, (http://www.ancestry.com: accessed Jan 2023), entry for Lucelia Luella Frazer, (1987).
xvClancy Pratt, Elsie Pratt, and Lucille Pratt (photographed), Chicago, c1920s; privately held by Bay County Historical Museum, 321 Washington Ave, Bay City, Michigan. "Tropical Trio"
xviLucille Pratt (photographed), Chicago, c1920s; privately held by Bay County Historical Museum, 321 Washington Ave, Bay City, Michigan. "Tropical Trio"
---
10:57 am est
2023.03.01
2023.02.01
2023.01.01
2022.12.01
2022.11.01
2022.10.01