Friday, December 1, 2023
Drawing on the Past: The Art of Gary Grimshaw Takes Flight, Story of the Classic Seagull Poster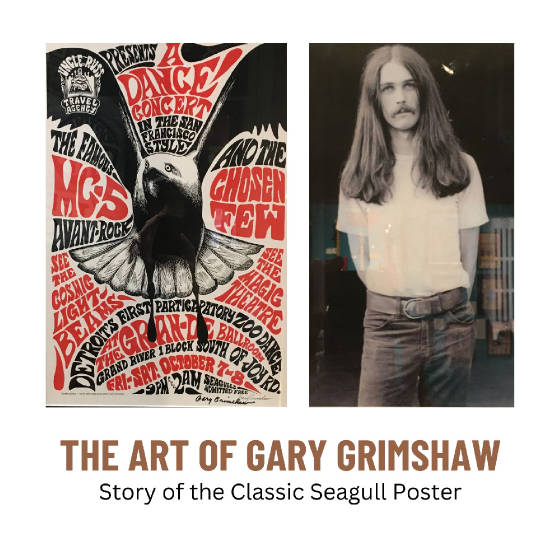 by David Hohenstein
Have you seen the rock music poster collection at BCHM? Among the stunning works on loan to the museum, many of them are by the hands of the artist Gary Grimshaw. A Detroit Native, Grimshaw found his way as an artist in the avant garde art & music scene of the sixties and seventies, beginning his career spanning five decades. Grimshaw's art became synonymous with Michigan rock, jazz, & blues concerts and festivals as well as political and community activism. He was renowned for his technical ability, creativity, talent, imagination, and artistry. Today, as well as before his passing in 2014, he is regarded as a legend, always remaining a true Artist of the People.
Born in Detroit, Michigan in 1946, Gary Grimshaw was twenty years old when he got the phone call that would begin his career. On the other end of the line was the owner/promoter of one of Detroit's brand-new clubs, Russ Gibb of the Grande Ballroom. Gibb wanted a poster to promote the opening event of the Grande Ballroom, which would be a rock concert headlined by Detroit's legendary MC5. Grimshaw took the job and created his first poster in one night.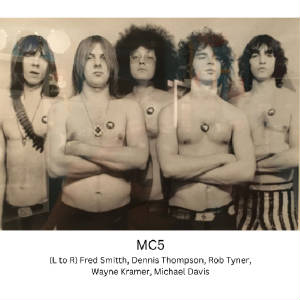 Grimshaw was intimately involved with the alternative music scene of his city, with close ties to MC5. MC5 is now described as a proto-punk band and was made up of five members. Noted to be one of the best rock bands of all time, they are widely known for their song "Kick Out the Jams" radical intensity and stage performances.
Grimshaw had spent some time in San Francisco, first traveling there while serving in the Navy. There he came upon their cutting-edge art and music scene that was influencing the counterculture of his time. He went to shows and noticed the artful posters all around the city advertising them. This certainly had an impact on the young artist, and he retained ties to San Francisco all his life. Russ Gibb wanted a poster in the San Francisco style, and that was what Gary gave him.
The copy of the poster in the museum is a 4th edition digital print c.2006 but the 1966 original would have been a two-color separated silkscreen artwork in 1966. This piece is part of a private collection, currently on loan to the Museum, which also includes several original Gary Grimshaw silk-screened posters. They're all fascinating and expertly crafted works, highlighting the many artists of jazz, blues and rock & roll that played in Ann Arbor and Detroit.
His work features the organic and lively shapes, colors and designs that were part of the spirit of the time. The 1960's alternative art and music scene drew some of its influence from Art Nouveau ("new art"). These liquid, enchanting, sometimes intoxicating designs from turn of the century Europe found a resurgence and reinterpretation in the American psychedelic rock era. Grimshaw was also very politically minded, along with MC5 and many of the young people of his generation. The seagull art is said to be an environmentally conscious choice, alluding to the destruction of ocean life caused by oil spills. He was also very concerned with humanitarian issues and freedom.
Poster art & artists of the era were in a school of their own. They had access to hundreds of years of printing technology and new means of printing and distribution were also being invented. Many artists utilized silkscreen, which was still less than 100 years old at the time. Layers of vibrant colored ink printed onto fabric or paper in the hands of artists turned a commercial tool into an art form. Silkscreens also allow for large series of art posters to be printed in a workshop setting but are simple enough to be accomplished in a kitchen or garage.
In addition to a two-day performance by MC5, the opening act was performed by The Wha? - also local to Detroit. The poster advertised a performance by The Chosen Few, but they apparently chose not to show up. They had a psychedelic light show and a "participatory zoo dance." Sixty people showed up for the first night and twice as many for the second. Gary became the primary poster artist at the Grande Ballroom for years with the number of images he created for that venue alone exceeding forty-five. Gary Grimshaw, MC5 and Russ Gibb are all featured in the Michigan Legends Rock & Roll Hall of Fame, among many other amazing artists.
Sources:
Grimshaw, L.E. "Gary Grimshaw: Workingman's Artist". GaryGrimshaw.org. 2020. https://garygrimshaw.org/bio.html
The Rock Poster Society. "Gary Grimshaw." TRPS. 2023 https://trps.org/artists/gary-grimshaw/
Erlewine, Micheal. "The Poster Style of Gary Grimshaw." Detroit Artists Workshop. Dec. 19, 2009. https://www.detroitartistsworkshop.com/grimshaw-gary/
1:42 pm est
Thursday, November 16, 2023
Part II: The Jones Clinic: Dr. Jerry M. Jones and Dr. Melvin Culver 'Casey' Jones
by Sam Fitzpatrick
Tragedy strikes Dr. Jones
On Sunday, May 16, 1982, Dr. Melvin Culver 'Casey' Jones was bludgeoned with a shovel by his gardener, Frederick Lutz, and an accomplice, Joseph Jacobs. The two had criminal backgrounds, were on probation, and resided at the Bay Fresh Start Rehabilitation Center (located at the Imperial 400 Motor Inn in downtown Bay City). On the night of the crime, the men broke into Dr. Jones's residence (1024 Rosemary Lane). Jones woke up, which caused them to exit the house and watch him through the bedroom window. While waiting for him to go back to sleep, the men created a plan to knock him out. As Lutz watched, Jacobs snuck back into the house and repeatedly struck Jones on the head with a shovel. Lutz went through the house looking for items to steal, which included silverware, a bottle of liquor, a German-made pistol and holster, and Jones' 1980 Chevrolet Caprice used as a getaway vehicle.
Almost 15 hours later, a friend found Jones unconscious on the bathroom floor. During the acquittal trial, doctors testified that Jones was taken to Bay Medical Center and was in critical condition for months. He had two operations on his brain, and almost a third of his brain was removed. Jones was transferred to a Grand Rapids hospital for physical therapy and eventually returned home with 24-hour nursing care. He was able to function physically but was left mentally incapacitated for the rest of his life. Dr. Jones passed away on December 9, 1991. He was 80 years old.
Fugitives
Chief David Shepardson, Hampton Township Police, headed up an eight-member task force consisting of Hampton Township Police, Bay County Sheriff's Department, the Bay City Michigan State Police post, and the FBI. Lutz and Jacob were charged with assault with intent to murder, armed robbery, breaking and entering with intent to commit larceny, and unlawfully driving an auto. The task force tracked the men and found evidence of the crime across the country. On the night of the crime, Fresh Start Center reported the men missing during a 2 am bed check. Upon questioning, family and friends revealed that they drove to Bowling Green, Ohio. In Bowling Green, a jeweler informed police that two men had pawned pieces of silverware. A payment of $308 was paid by check written in Lutz's name and cashed across the street. On the street, a witness saw them leave Jones' car around 10:30 am, which police found illegally parked with several pieces of silverware on the floor.
The men continued to Orlando, Florida, where Jacob was hurt during a fight while buying marijuana. He needed medical care, which resulted in the two parting ways. On May 21, 1982, Jacobs was arrested by the FBI at a Greyhound bus stop in Macon, Georgia. Lutz was arrested on the same day in Bay City.
Testimonies and Sentencing
Court cases for Lutz and Jacobs occurred in 1982, 1983, and 1989. The testimonies of each suspect blamed the other for the assault on Dr. Jones. It was revealed that they both believed Jones was dead before they left the scene. On their way to Bowling Green, they stopped in Detroit to dispose of the shovel, which was never recovered.
In December of 1982, Jacobs was acquitted of assault but was convicted of auto theft, burglary, and theft. He was sentenced to 22.5 years in prison by Bay County Circuit Judge William Caprathe. Chief Shepards was quoted in the Bay City Times, "I think that the jury was more sympathetic to a criminal than they were to a good man and doctor who was brutally beaten and robbed.'" The Michigan Court of Appeals reversed his sentence sentence due to the lack of attaching a minimum term. After a re-trial, Caprathe re-sentenced him on May 18, 1989, for 15-22.5 years.
In January of 1983, Lutz pleaded guilty, but not before he changed his story that it was Jacobs who hit Dr. Jones with the shovel. Unconvinced, Judge Caprathe convicted him of assault with intent to commit murder, along with other lesser charges, and sentenced him to 26-40 years in prison.
In 1999, 8 years after Jones' death, his art collection was auctioned off to benefit Studio23/The Art Center's endowment. A Bay City Times article announcing the event described Jones as a "'Renaissance man'", loved journalism and photography before studying medicine, a history buff, having extensively traveled throughout Asia, Europe, South America, Russia, and the former Yugoslavia amongst other regions.
Sources:
"Old clinic getting new life." By Greta Guest. Bay City Times. April 18, 1994.
"Proposal lets Jones Clinic dodge wrecking crew ball." By Elizabeth McKenna. Bay City Times. August 27, 1991.
"Designing Men Personal clothier carriers her tastes to men's wardrobes, interior decorating." By Michael K. Nowlin. Bay City Times. June 1, 2001.
"Jones Clinic Left to Founder's Son". The Bay City Times Extra. August 22, 1948.
"CONTRACTORS ARE NEARLY THROUGH ON JONES' CLINIC." Bay City Times Tribune. October 28, 1916.
"Modern Clinic is Established here". Bay City Times. February 23, 1936.
"Surgeon Stricken". The Bay City Times Extra. August 10, 1948.
"Bay City man's legacy to help fund art center". Bay City Times. April 22, 1999.
"Lutz, Jacobs to get long terms". The Bay City Times. January 24, 1983.
"Lutz plea agreement reached". The Bay City Times. January 6, 1983.
"Jacobs gets new sentence". The Bay City Times. May 18, 1989.
"Doctor's attackers believed to have fled Bowling Green". The Bay City Times. May 20, 1982.
"Dr. Culver Jones brutally beaten, robbed in his home". The Bay City Times. May 17, 1982.
"Jones, M. Culver, M.D. Essexville, Michigan". The Bay City Times. December 17, 1991.
"Physician and arts patron dies at 80". The Bay City Times. December 17, 1991.
"City to buy Jones' Clinic for $75 from state". The Bay City Times. May 21, 1991.
"Top police officials here recall crimes of the decade". The Bay City Times. December 17, 1989.
"Lutz pleads guilty, says he didn't hit Dr. Jones". The Bay City Times. January 3, 1983.
"Doctor-assault suspect may beat some charges". The Bay City Times. December 2, 1982.
"'Thanks a lot,' says Jacobs on acquittal". The Bay City Times. December 4, 1982.
"Jones beating suspect jailed; bond set at $100,000" The Bay City Times. May 22, 1982.
"Lutz captured". The Bay City Times. May 21, 1982.
"Jacobs returned; jailed on $100,000 bond". The Bay City Times. May 27, 1982.
"Doctor's state improves; Jacobs to be returned". The Bay City Times. May 25, 1982.
"Suspects sell silverware in Ohio". The Bay City Times. May 19, 1982.
"1 suspect in Jones beating nabbed in Georgia". The Bay City Times. May 21, 1982.
"Convicts on work-release suspects in Jones' assault". The Bay City Times. May 18, 1982.
The Skydeck https://theskydeck.com/who-invented-the-skyscraper/#:~:text=What%20Was%20The%20First%20Skyscraper,supported%20with%20an%20iron%20frame.
Miller, Hugh C. Publication. The Chicago School of Architecture: A Plan for Preserving a Significant Remnant of America's Architectural Heritage. Washington, District of Columbia: U.S. Government Printing Office, 1973. chicago-school-of-architecture.pdf (npshistory.com)
Ohio Laws and Administrative Rules: Section 4511.38 - Ohio Revised Code | Ohio Laws
1916 Bay City Directories
10:14 am est
Wednesday, November 1, 2023
MEMORY KEEPER: STORIES WITHIN THE COLLECTION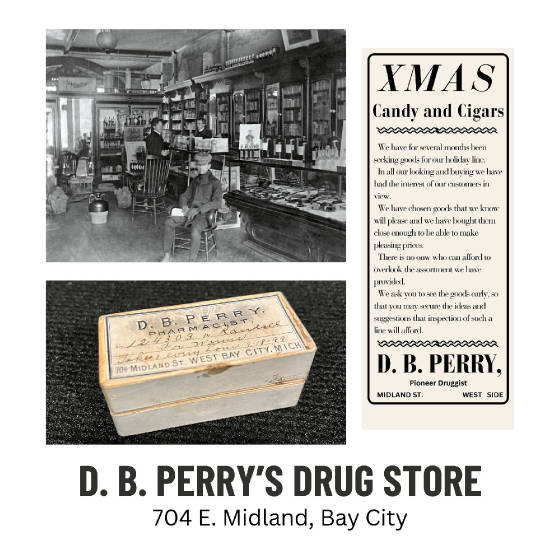 D. B. Perry's Drug Store
by Jill Pfeiffer
Daniel B. Perry was born in Grand Blanc, Michigan in 1849. He was a pharmaceutical druggist and businessman in Bay City. In 1880, he opened D. B. Perry Pharmacy at 704 E. Midland, West Bay City. The store was 25'x100' and sold "drugs, druggists' sundries, chemicals and medicinal compounds, extracts, preparation, etc., in addition to choice lines of meerschaum goods and the most select brands of Havana, Key West and domestic cigars." (The Industries of the Bay Cities, "D. B. Perry" 1889, p54). In 1905, Perry married Eff M. (Manning) and they had a home on Linn Street. Perry was well respected by the community. He mentored many of the city's young people who were interested in entering the business world. He died in 1913 from toxemia. During his funeral, businesses on the west side downtown district closed their stores and local druggists acted as pallbearers. Although his drug store closed in 1914, a new drug store was started by W. P. Lourim in the same location.
D. B. Perry's Drug store is highlighted in the temporary exhibit: WINDOW SHOPPING IN OLD BAY CITY. This exhibit highlights local businesses in Bay City during the Victorian Era. Browse the store front windows to learn about the businesses and the products that were sold. Watch a silent film from the era in the theater. Have fun dressing up at the selfie station. The exhibit will be open from November 13, 2023 to April 5, 2024,
Museum Hours: Monday - Friday from 10 AM - 4 PM. *The museum is closed for holidays.
Sources:
Bay City Daily Tribune, "Drugs" – April 2, 1914: 5
Bay City Daily Tribune, "Will Close Shop During Funeral" – June 20, 1913: 4
Bay City Daily Tribune, "Prominent West Side Merchant Dies Wednesday" – June 19, 1913: 5
Bay City Times Tribune, "Xmas Candy and Cigars" - December 18, 1908: 8
The Industries of the Bay Cities, "D.B. Perry" – 1889: 54
1:12 pm edt
Thursday, October 26, 2023
MEMORY KEEPER: STORIES WITHIN THE COLLECTION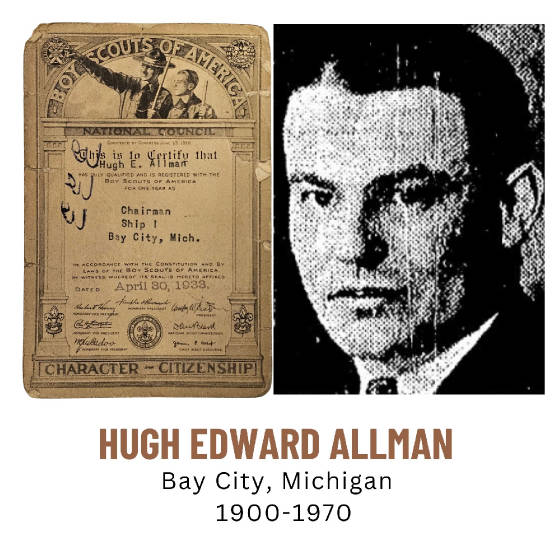 Hugh Edward Allman Sr.
by Jamie Kramer
Hugh Edward Allman Sr. was born in Michigan on July 5, 1900, to parents Charles Allman and Kitty Mae Allman nee Deford. By 1917, he was living in Bay City, working as a clerk in E.C. Thomas' Grocery Store.[1] Allman listed as private in the U.S. Army on October 14, 1918. By December 10th of that year, he was discharged. He eventually married Eva Thomas, the daughter of E.C. Thomas, his former employer. He eventually moved his family to Detroit, Michigan and by the early 1930s moved them back to Bay City, where he remained for several years operating the Allman Shoe Store. He passed away November 11, 1970.[2]
The Boy Scouts of America card shown was issued to him on April 30, 1933. Hugh Edward Allman is listed as chairman in Bay City. The back of the card includes the Scout Oath and the Scout Law.
12:11 pm edt
Wednesday, October 18, 2023
MEMORY KEEPER: STORIES WITHIN THE COLLECTION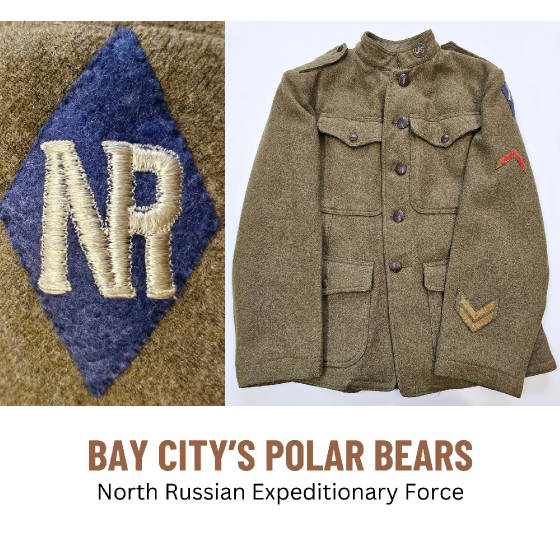 Bay City's Polar Bears
by Mark Helms
At the end of World War 1, on November 11, 1918, people in the United States thought that the American soldiers fighting in Europe would return home. However, some ended up serving in Russia at the request of the British government. The soldiers trained at Camp Custer, Michigan and transferred to Aldershot, in Hampshire, England. The soldiers had a short training, were re-equipped, and were sent to Archangel, Russia. These soldiers were part of the American North Russian Expeditionary Force and aided the British government to stop the spread of communism. They nicknamed themselves the "Polar Bears".
"Almost 90 percent of the 5,500 men that were sent to Russia were from Michigan; 70 percent from Detroit alone."[1] Of the 5,500 Polar Bears, two were from Bay City, Michigan: Henry R. Weitzel and Clarence Fields.
Henry R. Weitzel was a private in Company C, 339th Infantry. He went missing on October 29, 1918. His remains were never recovered.[2]
Clarence Fields was a private in Company F, 339th Infantry. He died of disease on September 19, 1918.[3]
2:07 pm edt