Thursday, September 14, 2023
MEMORY KEEPER: STORIES WITHIN THE COLLECTION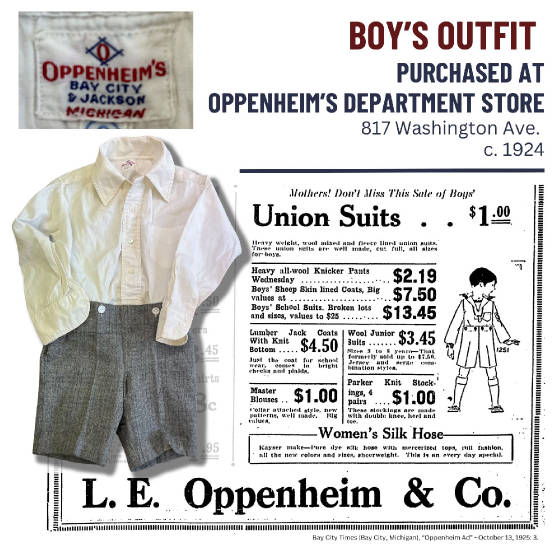 Raymond A. Bellon & Oppenheim's Department Store
Collection item donated by Suzanne (Bellon) Tyo: Boy's two-piece outfit worn by her brother Raymond A. Bellon.
This boy's two-piece outfit was purchased for Raymond A. Bellon in the mid-1920s from Oppenheim's Department Store, located at 817 Washington Ave., in downtown Bay City. The size eight shirt has an inside tag that reads "OPPENHEIM'S BAY CITY & JACKSON MICHIGAN." According to an advertisement published in the Bay City Times on October 13, 1925, this outfit cost $3.45.
Oppenheim was founded in 1882 by Louis E. Oppenheim. The store was located on Water St. and originally sold general apparel for men and boys. By 1958, the business had relocated to 209 Center Avenue, was selling women's apparel, and had been purchased by John D. Nichols of Toledo. In May 1964, it moved to its final location at 817 Washington Ave. Tragically, a fire on Christmas Eve in 1979 destroyed the building, which forced Oppenheim to close, and as a result it never reopened.

Raymond Bellon, the young boy who wore the outfit, was born and lived most of his life in Bay City. During World War II he served in the U.S. Army with the 30th Infantry 3rd in Africa, Italy, and France. While in France, he met Paulette Mathieu, who later followed him back to Bay City, and they were married in 1947. The marriage ended in 1964, and Raymond married Lorraine D. Revor of Pinconning in 1970. Raymond was employed with Bay City Shovels until it closed, and then worked for the County until retirement. He died in 1999 while living in Arizona.
Sources:

Bay City Times (Bay City, Michigan), "Bay Veteran Takes Bride" March 21, 1947: 8
Bay City Times (Bay City, Michigan), "Bellon, Raymond A. Tucson, Arizona" March 24, 1999: 18

Bay City Times (Bay City, Michigan), "Christmas Eve blaze destroys Oppenheim's downtown store" December 25, 1979: 1 & 15
Bay City Times (Bay City, Michigan), "Divorce Decrees" October 21, 1964: 5

Bay City Times (Bay City, Michigan), "Marriage Licenses" May 27, 1970: 40
1:27 pm edt
Tuesday, September 5, 2023
Band Canyon 2: The Byrds


Band Canyon 2: The Byrds
By Gary (Dr. J) Johnson
The most important historical performance at Band Canyon occurred less than three weeks after the teen nightclub opened in July of 1965. During the previous month, The Byrds' "Mr. Tambourine Man" single gave birth to the folk-rock genre, and it also had the distinction of topping the popular music charts in both the United States and England. As a result, the young California-based group was vaulted into the rarefied position of being referred to as "America's answer to The Beatles".
The band's appearance in Bay City was part of their first national tour, a 26-day series of gigs in mostly Midwestern states including Minnesota, Illinois, Indiana, Missouri, and Ohio. The Byrds' arrival at Band Canyon on July 22nd was noteworthy as well because it was the band's first and only show in Michigan on their inaugural tour.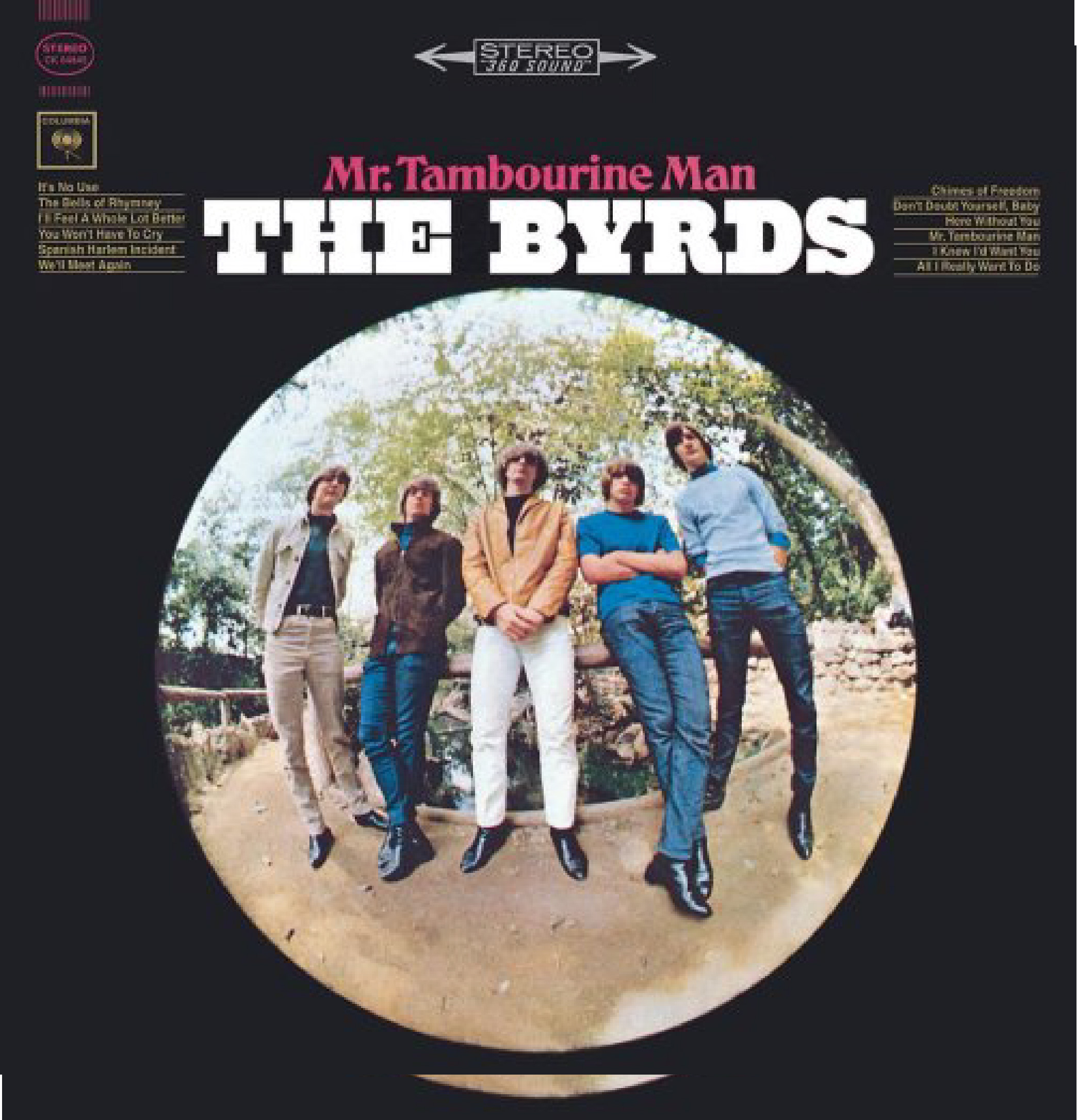 Although it might have seemed that The Byrds were overnight sensations who were new to the music scene, this was not really the case. Four of the five members of the band were experienced performers in the folk music arena and had already made professional recordings and appeared on television.
Lead guitarist Jim McGuinn played and recorded with both The Limeliters and The Chad Mitchell Trio, and later served as the accompanist on the folk song segment in Bobby Darin's nightclub act. Gene Clark sang and recorded with The New Christy Minstrels, and David Crosby did the same in The Lex Baxter Balladeers. Bassist Chris Hillman's background was in bluegrass music, and he played mandolin and recorded with The Scottsville Squirrel Barkers and The Golden State Boys. Drummer Michael Clarke was the only member who did not have professional experience before joining the band.
The genesis of The Byrds began in early 1964 when Jim McGuinn, inspired by the The Beatles, began performing folk songs with a Beatle beat. Gene Clark saw one of McGuinn's solo performances at The Troubadour in Los Angeles, and they formed a duo loosely model after the successful British twosome, Peter & Gordon. Things really came together when David Crosby added his harmonies to the mix. They knew immediately that they had something special, but it took producer Jim Dickson to bring it to fruition.
Dickson had an arrangement with the owner of World Pacific Studios in Los Angeles that gave him free access to the studio after hours to rehearse his acts or record demo sessions in return for his services. He brought Crosby, McGuinn, and Clark, who had come up with The Jet Set as their group name, to rehearse and record at World Pacific.
Free studio time provided the trio with a unique opportunity where they could record rehearsals and listen to and analyze playbacks right away. This was a luxury in an age where recording tape was expensive, and the idea of a high-quality home studio belonged to a distant future. In addition, it allowed them to develop their sound much faster than if they had been practicing in a garage or trying to put it together on the road.
In August, McGuinn, Clark, and Crosby went together to see A Hard Day's Night and were completely blown away by the film and impressed by The Beatles' hair, clothes, boots, attitude, sense of fun, and sex appeal. It also made them realize that they needed a bassist and a drummer if they were truly going to become a band.
The fact that George Harrison was shown playing an electric 12-string guitar in A Hard Day's Night was also an eye-opener for McGuinn. He had played an acoustic 12-string, but the guitar that Harrison played in the film was a prototype Rickenbacker guitar. McGuinn was soon able to purchase his own Rickenbacker electric 12-string, and it would soon become the signature sound of The Byrds.
Read the rest of the story, which includes eyewitness accounts of The Byrds at Band Canyon and the band's shopping trip to Norman's and Sears in Bay City, by clicking here: https://michiganrockandrolllegends.com/index.php/blog/185-band-canyon-the-byrds
To learn more about Bay County's rock and roll history and much more, visit the Michigan Rock and Roll Legends Hall of Fame exhibit at the Historical Museum of Bay County located at 321 Washington Avenue in Bay City, Michigan.
1:42 pm edt