Thursday, October 26, 2023
MEMORY KEEPER: STORIES WITHIN THE COLLECTION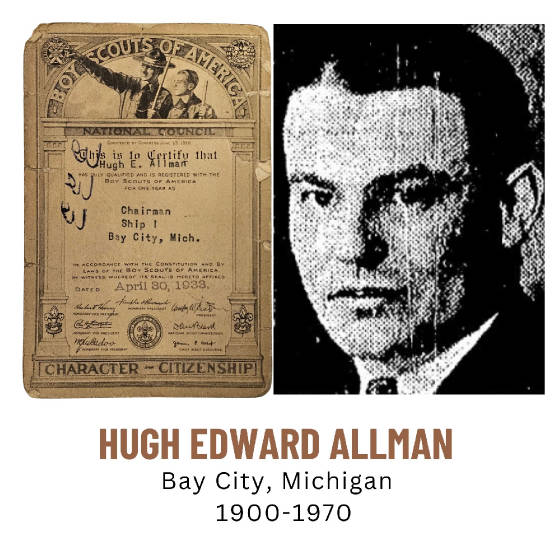 Hugh Edward Allman Sr.
by Jamie Kramer
Hugh Edward Allman Sr. was born in Michigan on July 5, 1900, to parents Charles Allman and Kitty Mae Allman nee Deford. By 1917, he was living in Bay City, working as a clerk in E.C. Thomas' Grocery Store.[1] Allman listed as private in the U.S. Army on October 14, 1918. By December 10th of that year, he was discharged. He eventually married Eva Thomas, the daughter of E.C. Thomas, his former employer. He eventually moved his family to Detroit, Michigan and by the early 1930s moved them back to Bay City, where he remained for several years operating the Allman Shoe Store. He passed away November 11, 1970.[2]
The Boy Scouts of America card shown was issued to him on April 30, 1933. Hugh Edward Allman is listed as chairman in Bay City. The back of the card includes the Scout Oath and the Scout Law.
12:11 pm edt
Wednesday, October 18, 2023
MEMORY KEEPER: STORIES WITHIN THE COLLECTION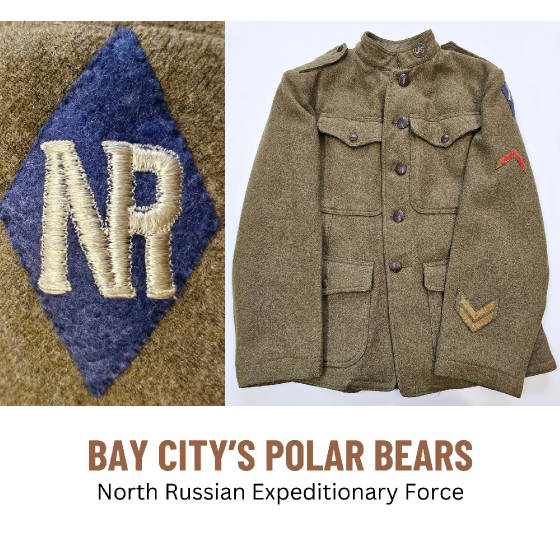 Bay City's Polar Bears
by Mark Helms
At the end of World War 1, on November 11, 1918, people in the United States thought that the American soldiers fighting in Europe would return home. However, some ended up serving in Russia at the request of the British government. The soldiers trained at Camp Custer, Michigan and transferred to Aldershot, in Hampshire, England. The soldiers had a short training, were re-equipped, and were sent to Archangel, Russia. These soldiers were part of the American North Russian Expeditionary Force and aided the British government to stop the spread of communism. They nicknamed themselves the "Polar Bears".
"Almost 90 percent of the 5,500 men that were sent to Russia were from Michigan; 70 percent from Detroit alone."[1] Of the 5,500 Polar Bears, two were from Bay City, Michigan: Henry R. Weitzel and Clarence Fields.
Henry R. Weitzel was a private in Company C, 339th Infantry. He went missing on October 29, 1918. His remains were never recovered.[2]
Clarence Fields was a private in Company F, 339th Infantry. He died of disease on September 19, 1918.[3]
2:07 pm edt
Wednesday, October 4, 2023
MEMORY KEEPER: STORIES WITHIN THE COLLECTION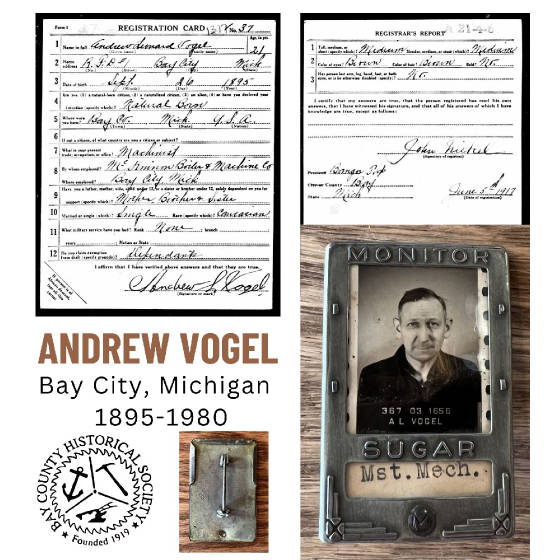 Andrew "Andy" Vogel
By Claire Clark
Andrew "Andy" Vogel was born September 26, 1895 in Bay City, Michigan. He was a machinist at McKinnon Boiler & Machine Co. when he registered for the draft on June 5, 1917. Andrew claimed an exemption citing three dependents, his mother, brother and sister. He was drafted regardless and served overseas in France as a Private in the U.S. Army during WWI.

He was then hired by the Robert-Gage Monitor Sugar company where he was employed for over 46 years. During his time at Monitor Sugar, he was a Master Mechanic and Foreman.
Vogel died on January 14, 1980 and is buried in Floral Gardens Cemetery in Bay City.

According to his obituary in the Bay City Times, Vogel was a member of Immanuel Lutheran Church, the Lutheran Fraternities of America, the Golden Age Club and the Veterans of World War I.
Vogel's only child, Evelyn Vogel, donated his identification badge from Monitor Sugar after his death. It is believed that the badge dates back to the 1940s.
Sources:
Bay City Times (Bay City, Michigan), "Mr. Andrew L. Vogel." January 15, 1980: 20.
Ancestry.com. U.S., World War I Draft Registration Cards, 1917-1918 [database on-line]. Provo, UT, USA: Ancestry.com Operations Inc, 2005.
Bay County Historical Museum Archives
1:13 pm edt