by David K Hohenstein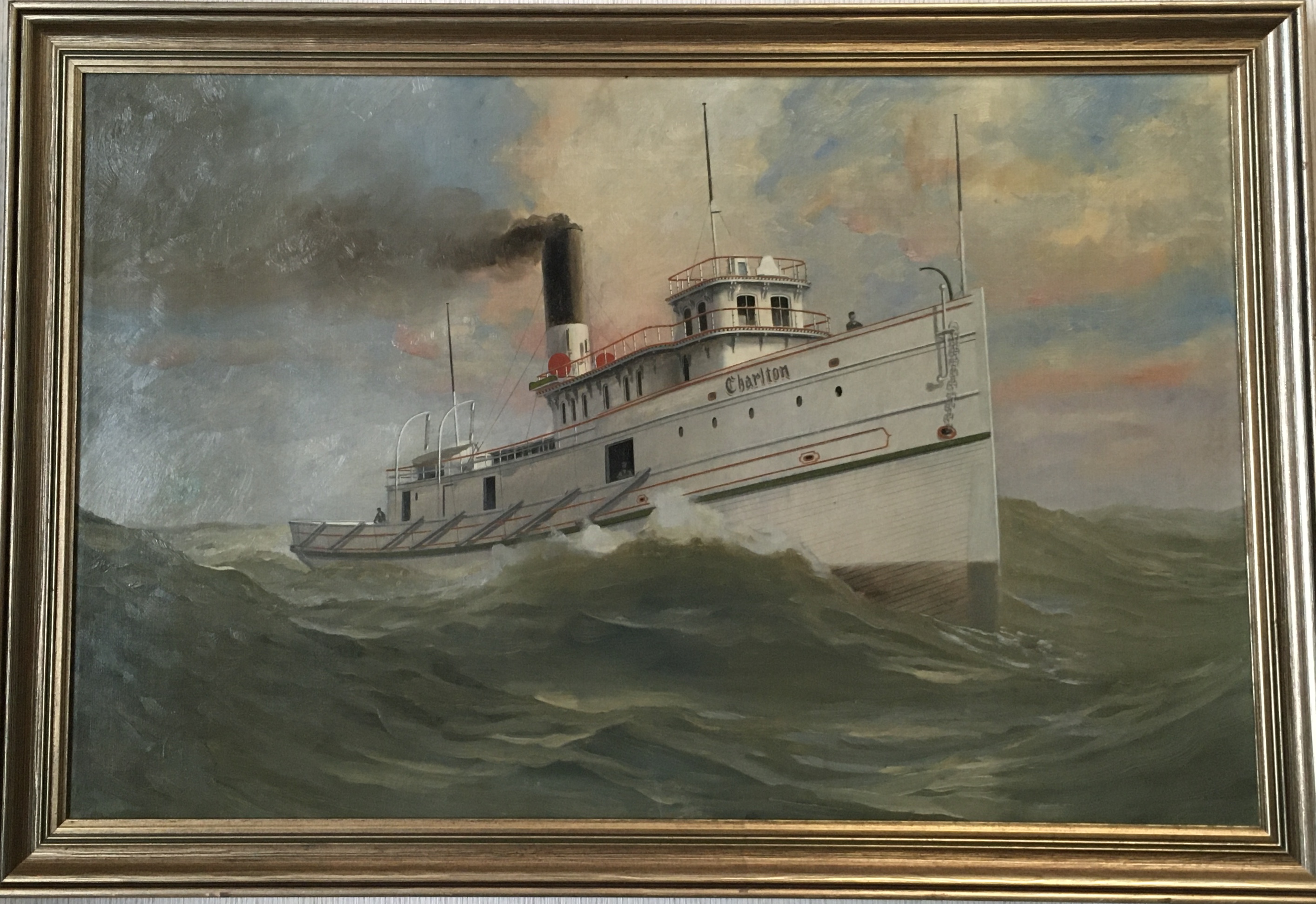 Object Source: Bay County Historical Society
On the Artist
The Bay County Historical Museum holds in its collection a series of paintings by the maritime artist Howard Freeman Sprague. Known as "The Boutell Fleet", the Captain Benjamin Boutell commissioned this series of paintings around the year 1890 from the young and aspiring artist. The collection was donated to the museum by Boutell's great grandson, William Boutell, in 2006. They depict single ships or groups of ships on the Great Lakes, all of which once belonged to Captain Ben Boutell.
The artist, Howard F. Sprague was from Huron, Ohio and born in 1871. He was among a handful of known artists from the time period who focused their painting and drawing subjects almost exclusively on ships; more specifically to the ships of the Great Lakes Region. In his youth he received some artistic training, but apparently did not stay long in the academic setting.
His technical skill as an oil painter is apparent in his portrait of the "Charlton". This painting is neither dated or signed but is attributed to the year 1891, and is one in a series of paintings by the artist in the museum collection dated from around the same time. Compared to some of his contemporaries, Sprague is regarded as a more artistic painter within the genre. In this painting he not only captures a realistic and precise representation of the Charlton but also recreates the atmosphere and energy of the Saginaw Bay.
Known among sailors as a graveyard for vessels, the Bay could be treacherous to navigate in stormy weather due to its shallow waters and frequently shifting sandbars. Sprague proficiently painted the water of the Bay in swelling waves of green that break in misty foam against the side of the ship. The windswept skies are captured in speedy strokes of color that become like clouds and air as the tug churns forward through choppy water. This ship would have traversed the many long miles between Canada and Michigan, back and forth over and again, towing millions of feet of timber on its journeys.
The Artist may have had a fascination with painting ships, or perhaps it was the demand of a market that dictated his narrow focus. In any case, it is inarguable that he possessed both talent and skill in his work and seems to have seen some fruit for his labors. Not only did he receive and complete commissions, such as for the Captain Boutell, his paintings were also published in St. Nicholas Magazine, New York Magazine, and Harper's Magazine.
Eventually Howard did leave the Great Lakes, and was recognized for his contributions to ship painting, illustration and lakeside scenes. He once painted a ship from the east coast, La Grande Duchesse, around 1898 and traveled as far as Puerto Rico. This resulted in an unfortunate early end to his life as he contracted tuberculosis on the trip and later died in Buffalo, New York. Howard was only twenty eight years old. His work has outlasted him, having a home in this museum as well as other collections across the country. Apart from his paintings, there is scarce documentation of his life, and this artist's dreams and inner world seem to have been left largely unrecorded, perhaps unrealized.
The paintings record the accomplishments of another man, one for whom there is much more to say. The story of the life of Benjamin Boutell is one of considerable interest as he was a man of outstanding character and accomplishment; one who seems to have lived fully and from his heart.
Captain Benjamin Boutell, Life and Career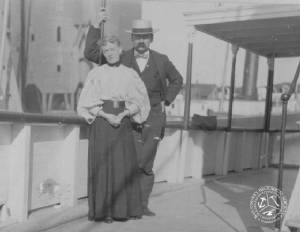 Image: Amelia and Benjamin Boutell. Source: Bay County Historical Society.
Born to Betsy Adams, descendant of President Adams, and Daniel Boutell from Syracuse New York, he began his working life early on at the age of six on a farm his parents owned in Deerfield Township, Michigan. He was reared and worked in the fields as a young boy. By the time he was twelve his parents moved to Birch Run before settling in Bay City, leaving Benjamin in charge of the family farm for some time. In Bay City the Boutells purchased a property and opened a hotel, naming it The Boutell House. Before then the fledging city was only a village. It was known as "Lower Saginaw" because the Saginaw River flows north into the Bay. The name changed to Bay City in 1857, two years before the Boutells opened their hotel.
For six years they ran their hotel as the population they served grew around them, but their fates changed in the winter of 1865 when the Boutell House caught fire and burned down. Daniel fought the fire during the night but could not stop it. The incident led him to develop pneumonia and he was unable to fully recover from the illness. He died only a few years later.
During the early years of Bay City, in the latter half of the 19th century, the settlement grew from a village into a lumbering epicenter of the Great Lakes region. The abundance of natural resources are to credit for the monetary wealth that was generated here. Timber was, of course, the product and the water was a main passageway. Thus, the lumbering and maritime industries grew simultaneously.
The young Benjamin Boutell began what became his lifelong career as a wheelman of the tugboat "Wave". Within a year he was promoted to mate of the "Wave". Following, he began captaining a previously docked vessel, "the Ajax" and with a crew of two persons. They hauled and split lumber themselves, working hard and earning the owners of the vessel a profit of around $6,000 in their first year.
In 1869, Captain Boutell partnered with the Captain William Mitchell and together they pulled lumber from Pinconning to the sawmills in Bay City and Saginaw with a tug boat called "Union". Their union lasted almost seventeen years during which time the population of Bay City nearly doubled from 15,820 in 1870 to 29,415 people by 1884. The lumbering industry drew many settlers and seasonal workers to Bay City, and it was during this time when some of the historic buildings still standing went up and debauchery ran rampant in the city's notorious "Hell's Half Mile".
When the Captains dissolved their partnership and went separate ways Boutell took along with him the tug and towing boats.
Captain Boutell's enterprises continued to grow, as did his influence and affiliations. In 1888 he joined with another business partner, Captain P.C. Smith to form the Saginaw Bay Towing Association. Together they compiled one of the largest and most successful tug fleets on the Great Lakes. It was around this time that Ben acquires the vessel "Charlton" as featured in Howard Sprague's painting. The Charlton was 120 feet in length (a large size for a tug boat) and was used to pull logs across the lakes between U.S. and Canadian territories.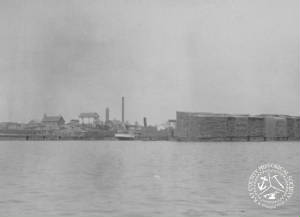 Image: Georgian Bay, Canada. Source: Bay County Historical Society
During the busiest season of the year the Saginaw Bay Towing Association would employ up to around 600 workers and moved 1,000,000,000 to nearly 4,000,000,000 feet of timber annually. At the time, Captain Boutell was credited for moving more lumber than any other living man. Boutell organized another towing company under his name in Boston, Massachusetts and was also highly invested in local and far reaching sugar manufacturing. Bay City is known for its beet sugar processing plant and production. The unique smell produced is characteristic of the area. Captain Boutell played a major role in starting the Michigan Sugar Company and the Bay City Sugar Company (among many others) of which he was a stockholder and vice president respectively. He even continued farming, buying a plot of land in Essexville to raise produce, grain and animals though Boutell Farm was not a business endeavor.
As immigrant settlement expanded further west across the continent, the need for raw building materials greatly increased. Michigan's prime forests and waterways were utilized to supply and transport massive quantities of lumber throughout the region and across the greater country. Hundreds of sawmills operated in great Michigan, least of none in Bay City. Logging companies first cleared forests in Michigan near waterways but the extension of railways allowed loggers to move timber an even greater distance and harvest more and more trees without regulation. The same means that built America as a country also exploited the environment, forever changing its landscape and ecosystems. Vast forests that were hundreds of years old were leveled within fifty years, thus ending Michigan's lumbering era.
Boutell and Family
The picture painted of Boutell's character though, is overwhelmingly positive. He was compassionate, driven, playful, ambitious, generous and loving. He was a well respected, outstanding citizen and directly involved in the formation and funding of Bay City's Mercy Hospital, the Madison Avenue Methodist Church, the YMCA and YWCA. In 1869 he married the young Amelia Duttlinger who was originally from Cleveland, Ohio. He brought her to Bay City and had a house built for her in 1893. There they lived and raised two sons, Frederick and William. Amelia's twin sister Cornelia also moved in with the family and the two are reputed to have been inseparable yet opposite temperaments. Mr. Boutell is quoted in an 1894 article from the Bay City Times, after the reporter points out he seemed happy, saying "Yes, no one enjoys life more than I do, for I do not worry myself to death. If there is to be an earthquake, let it come."
Amelia Boutell developed cancer in her middle-age and despite the family seeking the best available care for her condition, the disease eventually took her over. On her deathbed she asked her husband to promise to marry her sister, and not any other woman. This was perhaps to secure the inheritance of the family fortune to her sons and assure that Cornelia would continue to be taken care of. While Cornelia was known to be ill-tempered, Boutell agreed to his wife's wish and abided by it. Amelia Boutell passed at the age of fifty in 1902 and was mourned by many who loved her. Captain Benjamin Boutell later passed in 1912, following an accidental injury sustained while trying to board a moving train. He was sixty-nine years old.
The Captain's legacy continues in memory and in stories retold. His life and influence have shaped Bay City and the history of Michigan in ways that continue to this day. Though the boom of the lumber era is long gone, much of the architecture and from that time remains a fixture of the City today. Several generations of Boutell descendants have continued to live on in Bay City, helping in shaping their own time in their own ways.
Sources:
Bay County Historical Museum Archives: Boutell Photo Collection
Sibert, Thomas. "Architectural Accuracy and the Artists – Summer 1974, An Introductory Study of Great Lakes Ship Portraiture." National Museum of the Great Lakes. 1974. https://nmgl.org/architectural-accuracy-and-the-artists-summer-1974/
Konwinski, Mark. "The Impact of Lumbering and Railroads in Early Michigan." Mid Michigan Remembers Stories About Us. http://websites.delta.edu/michiganremembers/stories/Impact%20of%20LumberingKonwinski.htm
michiganhistory.org "A Brief History of Lumbering in Michigan." Center for Michigan History Studies.
http://www.michigan-history.org/lumbering/LumberingBriefHistory.html