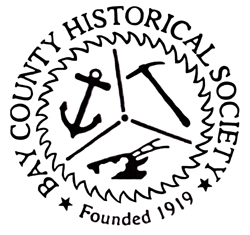 The Bay County Historical Society's logo is a wonderful representation of Bay County's past and present. Looking closely at the many symbols within the design tells a story of the area's strong culture of industry, which brought people and wealth to the County. It began with the lumbering era, which setup the foundation for factories along the river and Bay, agriculture, and mining.
Saw Blade
The jagged circle on the logo is a reminder of the lumbering era (1860-1890). It was the first industry that produced large amounts of wealth. As a result, the area saw growth in population and other industries, like sawmills, lumber yards, and factories. After the trees were clear-cut and the lumbering industry moved north, many of these businesses continued to exist. Factories created and exported wooden products like pails, barrel hoops, wooden pipes, siding, flooring, and pre-cut houses. The lumbering era was the foundation that kick started the agriculture, mining, and riverfront industries.
Anchor
The logo's anchor symbol represents the industries that developed along the Saginaw River and Saginaw Bay. The waterways fueled the area's economy and kept it strong for many decades after the end of the lumbering era. The river allowed for easy transportation of items in and out of the region, like sugar and sugar beets. Many early businesses continued to exist because of their proximity to the River and the Bay. One example is the boat-building industry, with nationally known names like The F.W. Wheeler and Company, the Davidson Shipbuilding Company, and the Defoe Shipbuilding Company. These businesses put Bay City on the map and aided the country during war times.
The river was not just a place for work but was a place of recreation used by locals and visitors. Pleasure crafts cruised the Bay and the river, the shores were a perfect location for carnivals and festivals, and individuals took advantage of the beaches for swimming and recreation.
Plow
The symbol on the logo used to represent agriculture is a historical plow. The farming industry began once the land was cleared of trees and continued to grow to what it has become today. Sugar beet production and the growth of sugar factories provided employment and wealth to the county's residents.
Pick Axe
The pick axe on the logo represents the coal mining industry that occurred throughout Bay County. The remnants of many of these mines can be still seen today, including the Central Coal Mine or the Salzburg Mine, Auburn Coal Mine in Williams Township, and the Wenona Coal Mine at the mouth of the Kawkawlin River.
---