Tours
The Bay County Historical Society offers a variety of guided tours offed throughout the year that highlight Bay County's history and community. All tours will leave from the Museum lobby. Call Sam Fitzpatrick at (989)893-5733 to reserve a ticket or purchase in the Museum store before the tour.
Visit Our
EVENTS
page for dates and times of scheduled public tours.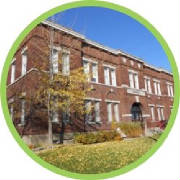 Museum Tours
Sam Fitzpatrick, Education Coordinator, will take you through our galleries, wow you with his historic knowledge, and will answer your questions about Bay County History.
Cost: $1/ person
---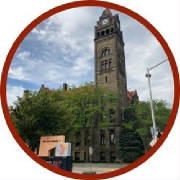 City Hall Tour
Tour Bay City's beautiful CITY HALL. Learn the history and climb the clock tower. Meet in the lobby of the Bay County Historical Society's Museum.

Cost: $1/ person
---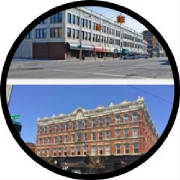 Downtown Bay City Architecture Walking Tour
Today just like in Bay City's past, we have a booming downtown. Old buildings filled with charm dot the main streets of Washington, Center and Madison Avenues. Everything that a successful "heart'' of a city needed could be found here: drug stores, markets, clothiers, restaurants, grocers, government offices and entertainment venues.

Local architects Pratt & Koeppe left an architectural legacy, and were famous for constructing many of the sites to be seen on the tour. Albert Kahn of Detroit (Fisher Building, Cadillac Place and the Belle Isle Conservatory among others) even had a hand in some designs here. Besides beauty and splendor, the featured buildings also hold stories that shaped our city's and county's history. The tour will share information highlighting the history and importance of these structures.
Cost: $10/person, $5 ages 12 and under
---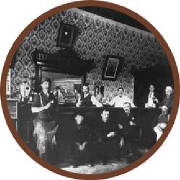 Hell's Half Mile Walking Tour
In the late 1800s at the end of the lumbering season, as many as 5000 lumberjacks ("shanty boys") would collect their hard-earned pay and head for a six-block strip along Bay City's waterfront called "Hell's Half Mile." There they would find a variety of gambling houses, theaters, raucous saloons and brothels, as well as tunnels and catacombs under the city streets.

The tour will visit Water Street and the surrounding area, and explore the history of this notorious district with stories of persons and events that helped give Hell's Half Mile its fame.

Note: The tour will contain historical references containing graphic violence and adult subject matter. Discretion is recommended for those taking part, particularly if children are to be included.
Cost: $10/person, $5 ages 12 and under
---